The UK new car market grew 14.7% in January to reach 131,994 units, according to the latest figures from the Society of Motor Manufacturers and Traders (SMMT), setting the tone for an anticipated countercyclical year of growth. This was the best start to the year since January 2020's pre-Covid 149,279 units and marks the sixth successive month of expansion.
Electrified vehicles notably drove the increase, as manufacturers continue to bring ever more choice to the market despite ongoing strains on the supply chains. Hybrid electric vehicles (HEVs) comprised 14.4% of new car registrations, increasing volumes by 40.6%. Meanwhile, battery electric vehicle (BEV) registrations rose 19.8% to reach 17,294 units, or 13.1% of new registrations – slightly below the average recorded for 2022.1 Plug-in hybrid vehicles (PHEVs) recorded a 0.7% rise, although their share fell to 6.9% of new cars reaching the road.2 As a result, one in five new cars registered in the month came with a plug.
It was also a strong month for large fleet registrations, which increased by 36.8% to 69,540 units, while registrations by private buyers fell by -4.3% to 59,639 units – reflecting some easing of supply and evidence of how shortages last year distorted market performance. Registrations by businesses, the smallest segment at 2,815 units, rose by 45.6%.
Plug-ins are anticipated to comprise of more than one in four new registrations this year, representing growth of 32.1% or approximately 487,140 units, and almost a third (31.0%) of the market in 2024 at 607,150 units3. However, the rollout of infrastructure needed to charge them is failing to keep pace.
During Q4 2022, the ratio of new chargepoint installations to new plug-in car registrations dropped to one for every 62 – a significant fall compared with the same quarter last year, when the ratio was 1:42.4 As a result, in 2022, one standard public charger was installed for every 53 new plug-in cars registered, the weakest ratio since 2020.5 Mandating rollout targets for infrastructure and regulating service standards would give drivers certainty they can always find a working, available charger. Infrastructure must be built ahead of demand else poor provision risks delaying the electric transition.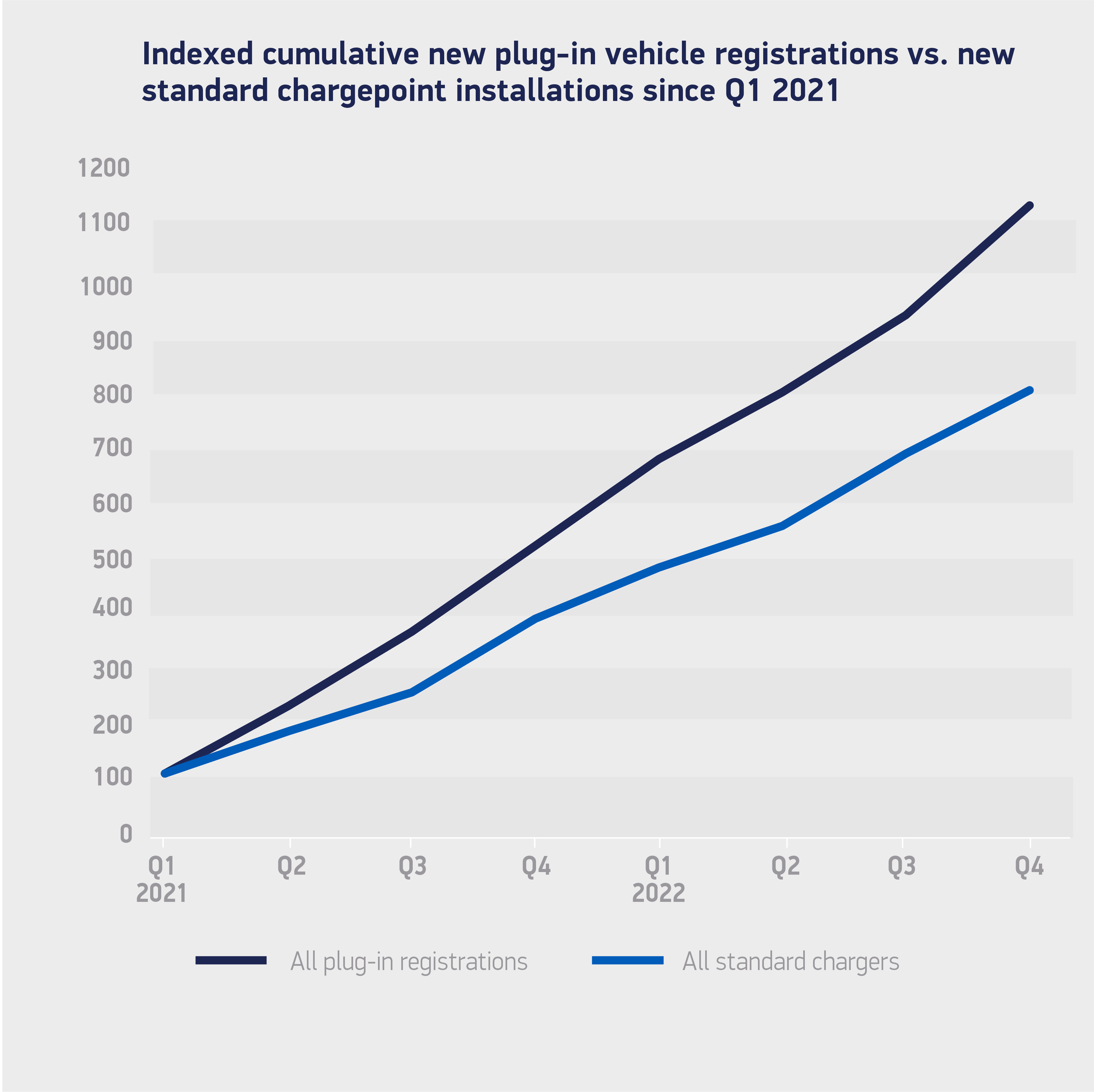 More immediately, the upcoming Budget is an opportunity to implement measures that support the transition. Reducing VAT on public chargepoint use from 20% to 5% in line with home charging would ensure more affordable access for all and underpin a fair net zero transition. Government should also review proposals to graft a Vehicle Excise Duty regime designed for fossil fuel cars onto zero emission vehicles (ZEVs). The higher production costs associated with electric vehicles means that currently more than half of all available BEVs would be subject to the expensive car supplement due to apply to ZEVs from 2025.6 While it is right that all drivers pay their fair share, existing plans would unfairly penalise those making the switch, and risk disincentivising the market at the time when EV uptake should be encouraged. Government should also tackle other fiscal blocks to uptake by raising recommended business mileage rates.
Mike Hawes, SMMT Chief Executive, said, "The automotive industry is already delivering growth that bucks the national trend and is poised, with the right framework, to accelerate the decarbonisation of the UK economy. The industry and market are in transition, but fragile due to a challenging economic outlook, rising living costs and consumer anxiety over new technology. We look to a Budget that will reaffirm the commitment to net zero and provide measures that drive green growth for the sector and the nation."
The strong start to the year is mirrored in the latest market outlook, which anticipates 1.79 million new car registrations in 2023, an 11.1% increase on the past year but still well below 2019 levels. This also represents a -0.8% reduction on October's outlook, against a weak economic backdrop. However, a further 9.3% increase is expected next year, with 1.96 million new cars expected to join the road in 2024.
Kim Royds, EV Director at British Gas, said: "Maintaining the momentum in the number of EVs arriving on UK roads is not going to be an easy ride without boosting the levels of investment in the charging network. It is vital that the government increases the pace at which public chargers are being installed across the country. What's more, it needs to work with organisations and public authorities to maintain these services, and ensure they are accessible to those without off-street parking that need them the most.
"Ultimately, we need drivers to have the confidence that there are enough chargepoints for them to use if the UK's EV revolution is to gather pace. If not, we may see a tipping point where the supply of vehicles outstrips the number of chargers available, stalling the good progress that has already been made."
John Wilmot, CEO, car leasing comparison website LeaseLoco, comments: "Last year was a gruelling one for the new car market, with ongoing production issues, part shortages and the higher cost of living dragging on sales.
"January registrations are a positive start to 2023, and a sixth consecutive month of growth shouldn't be sniffed at, but the car industry should be under no illusions that the next few months are going to be challenging.
"The UK is teetering on the edge of a recession. Inflation remains above 10% and the Bank of England base rate is now at 4%, adding hundreds of pounds a month onto many homeowners' mortgage costs. Higher food, energy and fuel costs are stretching peoples' finances to breaking point.
"It may be asking a lot to expect consumers to loosen their purse strings and buy big ticket items such as a new car under the weight of such economic pressures, unless they need to or have available savings to take advantage of some favourable discounts.
"It's not all doom and gloom though. There is evidence to suggest that even if we enter recession this year, it won't be a deep one. And despite inflation remaining above 10% in December, it did ease slightly.
"Healthy EV sales continue to show where the road to recovery lies, although the slow installation of chargers and the rising cost of home charging remain genuine concerns to car owners considering the switch to electric.
"While current economic pressures are impacting consumer purchasing behaviour, there is still plenty of pent-up demand to buy a car just not the conviction. The industry needs to be ready to spring into action when the economic climate brightens, and that conviction returns."
Nick Williams, Transport Managing Director, Lloyds Banking Group said: "After a record-breaking year for EV registrations, a similar trend looks set to continue in 2023, with more than 17,000 new vehicles entering the UK car parc in January.
"But to make an electric dream a reality for more drivers this year we need to see continued investment and incentives from policymakers. This includes rapidly expanding the nationwide rollout of charging points – which, at its current rate, is one of the biggest hurdles to widespread EV ownership.
"The increases we're seeing in new EV registrations are promising, but our infrastructure must be able to support them – only then will the UK be able to truly deliver on its ambition to be a global leader in the electrification of transport."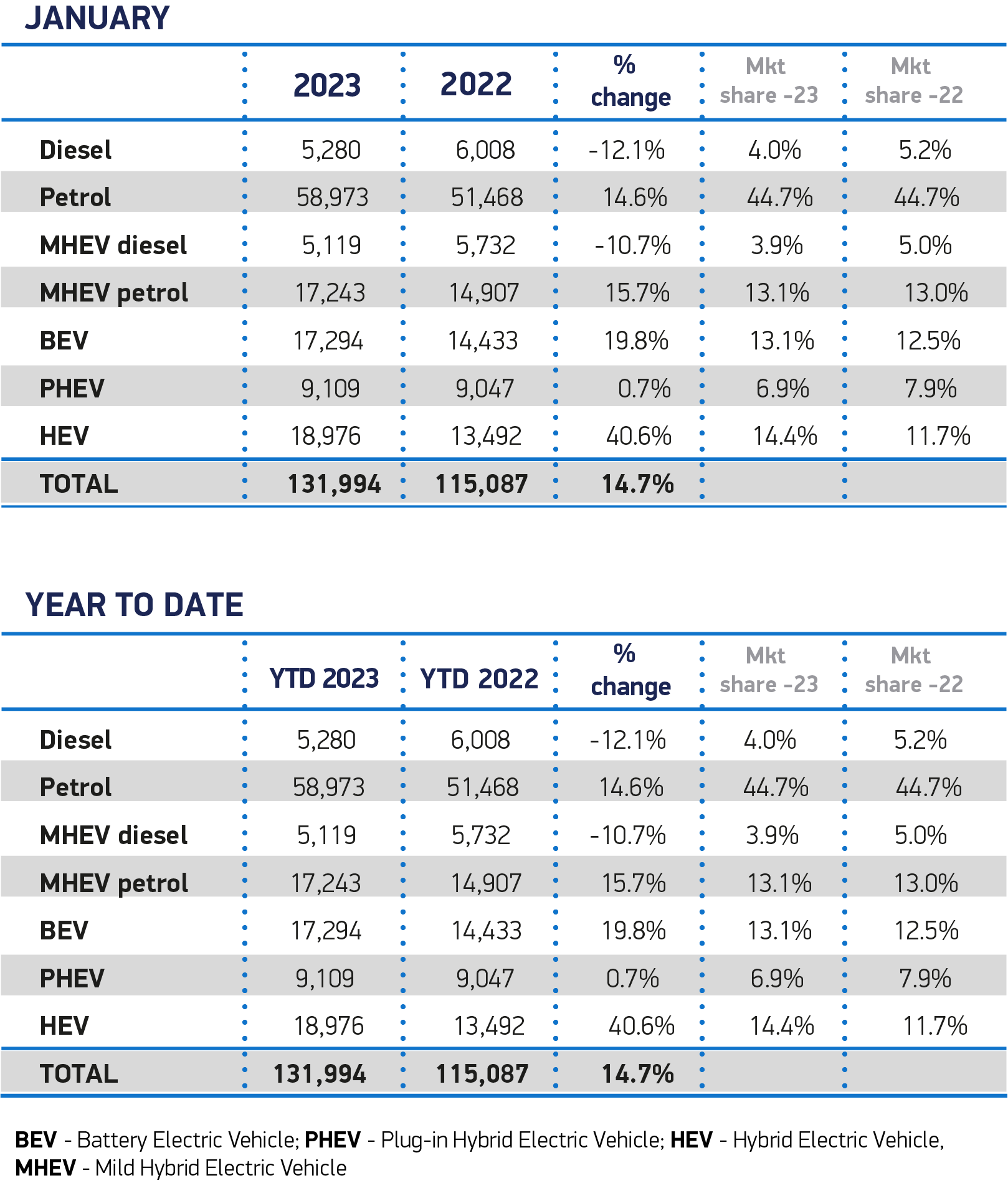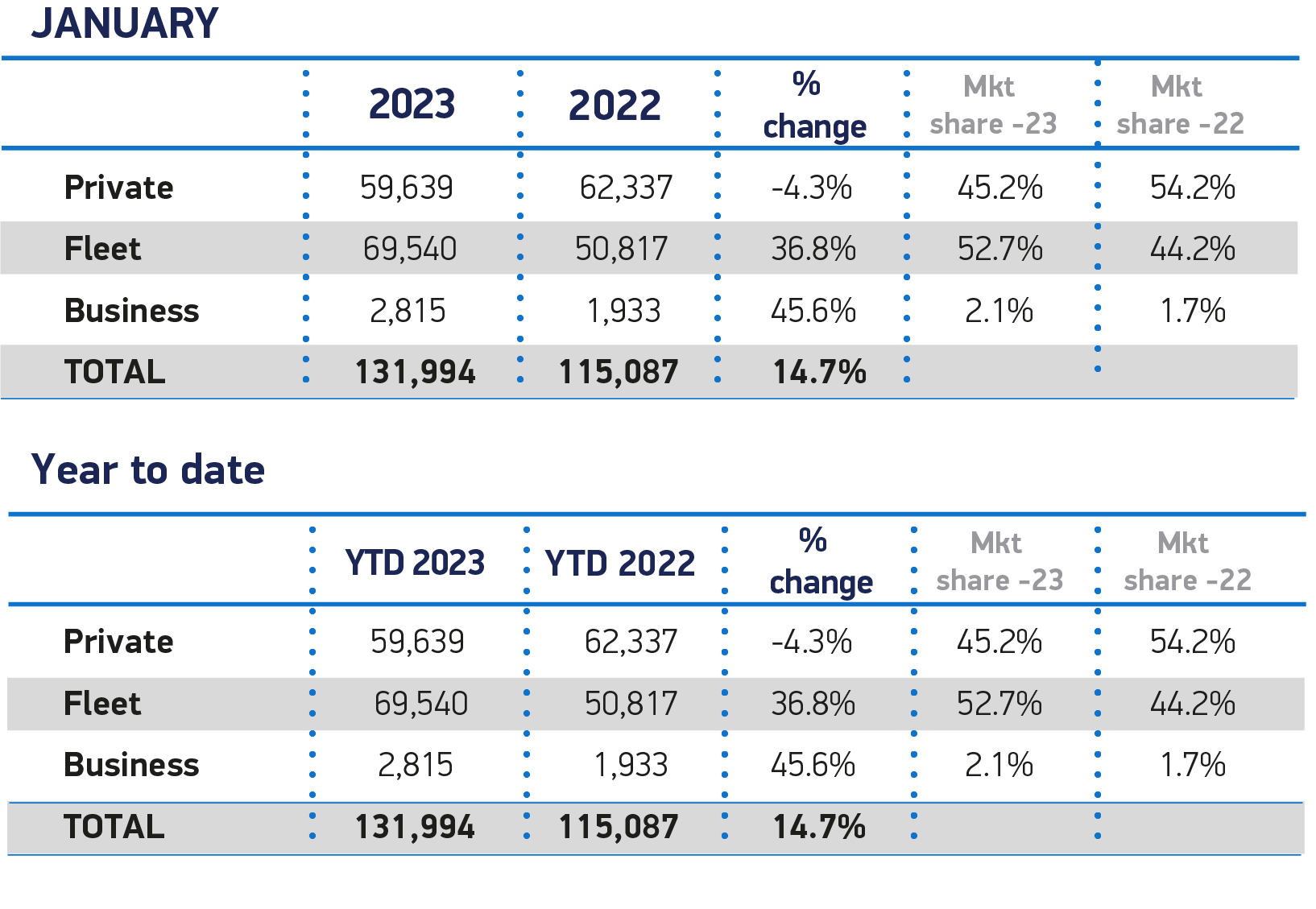 ---
1 BEV market share in 2022: 16.6%
2 PHEV market share in January 2022: 7.9%
3 SMMT market outlook, published January 2023
4 Based on SMMT analysis of plug-in car registrations and DfT EV chargepoint figures
5 2020 ratio – 1:54
6 Based on SMMT analysis of available BEV models and base vehicle prices