UK new car registrations fell -22.0% in August, according to the latest figures from the Society of Motor Manufacturers and Traders (SMMT). 68,033 units were registered in what is traditionally one of the quietest months of the year for new car registrations ahead of the important plate-change in September.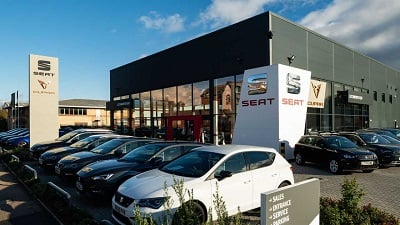 The monthly performance was the weakest since August 2013, and down -7.6% against the average recorded over the last decade, due in part to constrained supply as the global shortage of semiconductors, an issue born of the pandemic, continues to undermine production volumes.1
Demand for the latest battery electric (BEV), hybrid (HEV) and plug-in hybrid (PHEV) vehicles, however, surged, up 32.2%, 45.7% and 72.1% respectively. In fact, demand for PHEVs has outpaced BEVs in five of the last six months since changes to the Plug-in Car Grant, affecting BEVs, were introduced in March.2 There are now some 130 plug-in models on the market, with the range ever-increasing.
Registrations by private, business and fleet buyers all fell by double digits in the month with fleet purchases down -27.5%, a loss of 12,627 units. Private activity held up better, registrations dropping -15.2% to 33,771 units, meaning that just shy of half (49.6%) of all sales in August were driven by private consumers. The mini segment was the only car bodystyle to see growth, up 30.7%, but with just 902 registrations it is a segment prone to greater fluctuations.
So far this year, UK new car registrations remain up 20.3%, to 1,101,302 registrations, an increase of 185,687 units with BEVs and PHEVs at 8.4% and 6.6% market share respectively. However, this performance is measured against the Covid-hit 2020 market, when showrooms were closed for much of the year. Total registrations in 2021 are -25.3% below the 10 year average for the period January – August, illustrating the ongoing and wide ranging impact of the pandemic on automotive retail.3
Mike Hawes, SMMT Chief Executive, said: "While August is normally one of the quietest months for UK new car registrations these figures are still disappointing, albeit not wholly surprising. The global shortage of semiconductors has affected UK, and indeed global, car production volumes so new car registrations will inevitably be undermined. Government can help by continuing the supportive Covid measures in place currently, especially the furlough scheme which has proven invaluable to so many businesses.
"As we enter the important September plate-change month with an ever-increasing range of electrified models and attractive deals, buyers in the market for the new 71 plate can be reassured manufacturers are doing all they can to ensure prompt deliveries."
Jon Lawes, Managing Director of Hitachi Capital Vehicle Solutions, commented: "Despite ongoing production constraints faced by manufacturers affecting supply, it's encouraging to see the uptake of electric, hybrid and plug-in hybrid models continue to rise. Recent developments announced to further bolster EV infrastructure provide greater confidence, coupled with ever wider choice and attractive incentives for drivers.
"There is certainly room for optimism with the arrival of new 71 plate vehicles expected to provide a welcome boost for the industry, at least in the short-term, while supply chain pressures persist."
Ben Nelmes, Head of Policy and Research at New AutoMotive, said: "It's great to see electric car sales going from strength to strength. Another 6,000 motorists are set to benefit from cheaper running costs, a better driving experience – and we all benefit from cleaner air.
"August's figures are yet more evidence that the transition to electric vehicles is gathering pace. The UK will benefit if the government acts now to ensure that the charging infrastructure is rolled out rapidly and that people are equipped with the skills they need to get ahead of the curve.
"This summer, we heard some people suggest that the UK should try to resist the inevitable transition to EVs; doing so would be like building sandcastles against the incoming tide."
Meryem Brassington, electrification propositions lead at Lex Autolease said: "The growth in electric and hybrid vehicles is encouraging as ever. The journey to move towards net zero is set to be strengthened even more with the closing of a Government consultation later this month to set the bar on how environmentally friendly a hybrid vehicle has to be to remain on sale post-2030. These positive changes will be crucial to ensuring that even more of the vehicles on the UK's roads post 2030 are genuinely sustainable and contributing towards the UK's net zero ambitions."
Jamie Hamilton, automotive director and head of electric vehicles at Deloitte, said: "New car sales in August were down 22% year-on-year as ongoing supply issues weighed heavy on the industry. A fall in both private (-15%) and fleet (-28%) sales contributed to the overall decline this month, despite the fact that both consumer and business confidence are on the up.
Industry positive on charging commitments
"Whilst we've seen positive growth in EVs again this month, for take up to grow consumers will be looking for tangible improvements to the UK's charging infrastructure in the run up to 2030. For example, charging needs to be readily available to those without off-street parking and visible on forecourts up and down the UK's road networks in order to put to rest any anxiety about charging on long journeys. With this in mind, it is positive to see new commitments to EV charging from both utilities and regulators this past month.
Supply issues begin to bite
"At the start of the year – prior to the semi-conductor shortage – the stage looked set for a strong recovery from the pandemic. However, this has been hampered by supply issues that have left manufacturers and dealers alike in limbo for several months, unable to meet the return of pre-pandemic consumer demand. The repercussions of the semi-conductor shortage have been felt across the globe, highlighting some fundamental issues in the automotive supply chain. Manufacturers will want to improve their resilience and reduce the risk of similar supply shortages in future, with a reconfiguration of the automotive supply chain likely.
September projections softened, despite 71-plate
"As the semi-conductor shortage continues, even as far as Q2 2022, new car sales will be impacted. All eyes will be on September, with plate change months traditionally leading to some of the biggest months for new car sales. Whilst there will be consumer interest in the new 71-plate, some in the industry are tempering their expectations. Dealer pre-registrations are significant contributors to September's figure but the motive to pre-reg may be lower-than-normal, as some manufacturers have softened dealer targets and are currently only building to order, anyway.
"The issues surrounding the supply of new cars has continued to push people towards the used car market. This has resulted in the average price of a used car being close to £15,000 – 11% higher than last year.
EVs approach one in five market share
"Despite the ongoing challenges around supply, EVs continued to outperform the market. However, the rate of growth has slowed this year, with battery electric (32%) and plug-in hybrid vehicles (72%) registering double, rather than triple, digit growth. August's sales figures saw EVs hold a combined 18% of the market, approaching one in five of all new car sales. Consumer demand for EVs is growing, but hindered by continuing supply chain issues."
Alex Buttle, director of used car marketplace Motorway.co.uk, comments: "While new car sale numbers are still disappointing, the used car market is white-hot, with demand through the roof and sales surging throughout the summer. The contrasting fortunes of the UK's new and used car markets have never been more stark.
"New electric car registrations are once again a bright spot, with BEV and PHEV sales up 32% and 72% respectively in August compared to 2020 figures. But ongoing production issues continue to blight new car sales, stifling supply and stretching delivery times.
"With every manufacturer facing different difficulties, these are complex issues that aren't going to be fixed overnight. The ongoing microchip shortage is unlikely to be resolved until well into 2022. Even then, normal production levels are unlikely to resume at the press of a button.
"In the meantime, many buyers who would typically buy new are being driven away by long wait times, and are pointing their wallets instead towards the second-hand car market, where they can buy nearly-new online and secure a vehicle for collection or delivery the same day.
"The used car market is perfectly positioned to take advantage of the frustration buyers are feeling at having to wait months, or even up to a year in some cases, to take delivery of their new car.
"As a result of this shift in buyer sentiment, demand for used cars is at an all-time high, pushing prices up significantly across the spectrum of makes, models and price brackets.
"For now, the used car market is effectively plugging the gap left by the drop-off in new car production. With clean air zones an ongoing reason for many buyers to upgrade their car, the used car market is enabling buyers, who may not be ready to switch to electric, to switch out of higher polluting cars that would otherwise remain on UK roads."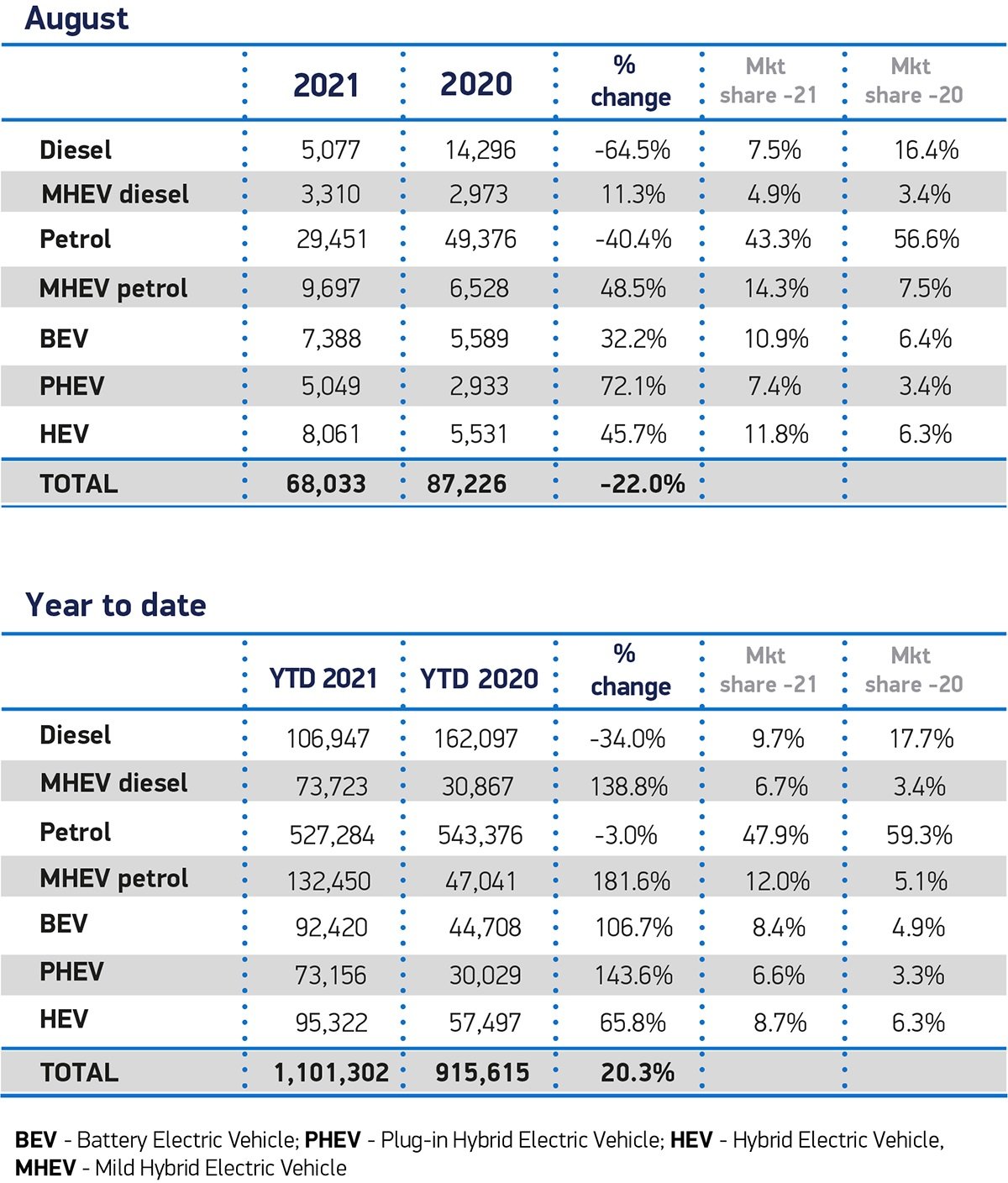 ---
1: 2010-2019 August average 73,598 registrations. August 2013 65,937 registrations.
2: Growth in registrations for PHEVs year-on-year has been above that of BEVs in five of past six months (all bar July) since the PICG changed in March, with a reduction in the grant for eligible BEVs from £3,500 to £2,500.
3: 2010-2019 January – August average 1,475,256 registrations