The UK new car market has recorded its weakest September since 1998 ahead of the introduction of the two-plate system in 1999, according to figures published today by the Society of Motor Manufacturers and Traders (SMMT).
Some 215,312 cars were registered in the month, a -34.4% fall on September 2020, when pandemic restrictions were significantly curtailing economic activity. September is typically the second busiest month of the year for the industry, but with the ongoing shortage of semiconductors impacting vehicle availability, the 2021 performance was down some -44.7% on the pre-pandemic ten-year average.1
However, September was the best month ever for new battery electric vehicle (BEV) uptake. With a market share of 15.2%, 32,721 BEVs joined the road in the month, reflecting the wide range of models now available and growing consumer appetite.2 Indeed, the September performance was just over 5,000 shy of the total number registered during the whole of 2019.
Plug-in hybrid (PHEV) share also grew to 6.4%, meaning more than one in five new cars registered in September was zero-emission capable. Meanwhile, hybrid electric vehicles (HEVs) grew their overall market share from 8.0% in 2020 to 11.6%, with 24,961 registered in the month.
Looking at market segmentation, private demand was down -25.3% with 120,560 new registrations in the month, but a bigger fall was recorded in large fleets, which declined by -43.1% to 90,445 units. As a result of the month's disappointing performance, registrations year to date are now only 5.9% ahead of 2020 figures, and -29.4% down on the pre-pandemic decade-long average.3
Mike Hawes, SMMT Chief Executive, said, "This is a desperately disappointing September and further evidence of the ongoing impact of the Covid pandemic on the sector. Despite strong demand for new vehicles over the summer, three successive months have been hit by stalled supply due to reduced semiconductor availability, especially from Asia. Nevertheless, manufacturers are taking every measure possible to maintain deliveries and customers can expect attractive offers on a range of new vehicles.
"Despite these challenges, the rocketing uptake of plug-in vehicles, especially battery electric cars, demonstrates the increasing demand for these new technologies. However, to meet our collective decarbonisation ambitions, we need to ensure all drivers can make the switch – not just those with private driveways – requiring a massive investment in public recharging infrastructure. Chargepoint roll-out must keep pace with the acceleration in plug-in vehicle registrations."
Meryem Brassington, electrification propositions lead at Lex Autolease said: "The rise of EV registrations are now at a UK high, with battery and hybrid vehicles now accounting for 33 percent of the new car market – a major boost as we work towards the 2030 ICE ban deadline.
The recent fuel shortage will only have further heightened awareness of the importance of transitioning to an electric future. As EVs continue to rise in popularity, industry must work collaboratively to ensure there isn't a tipping point of demand outstripping supply."
Lucy Simpson, head of EV enablement at Centrica Business Solutions, said: "Despite the ongoing supply chain issues, it's encouraging to see the continued growth of zero-emission vehicle registrations, proving that they are fast becoming the vehicle of choice for individuals and businesses. Government and manufacturers must continue to work together to ensure that the supply of EVs continues to meet demand as the UK accelerates its electrification ahead of the 2030 ban on ICE vehicles.
"But there are challenges ahead, not least in guaranteeing drivers certainty over access to charging infrastructure. The solution needs to include a faster roll-out of EV charging points in public places, at businesses, and at leisure facilities to avoid large swathes of the population being cut off from an electric future."
Jon Lawes, Managing Director, Hitachi Capital Vehicle Solutions: "Whilst current supply chain issues are leading to longer lead times across the board, clear shifts in driver priorities to cleaner, greener vehicles have continued with the introduction of new 71 plates.
"A new form of anxiety affecting drivers of ICE vehicles has emerged during the fuel crisis. With the price at the pumps also heading in the wrong direction despite fuel shortages beginning to ease, we've seen EV enquiries increase markedly by 33% over the past month and our corporate order bank is currently at 85% ULEV.
"These recent events will only heighten a new wave of enthusiasm for EVs and provide further impetus for many drivers to make the switch. With COP26 around the corner, it's vitally important all facets of the motor industry respond to this momentum."
Jamie Hamilton, automotive director and head of electric vehicles at Deloitte, said:
71-plate a false start
"The lowest September car sales for over two decades will be seen by many in the industry as a false start.
"New plate months should traditionally boost sales, and many had put August's already disappointing lull down to typical consumer behaviour, holding out for the new 71 plate. Whilst demand for new cars remains strong amongst consumers, today's figures are reflective of the deepening production challenges the industry faces throughout its supply chain.
Empty pumps fuel EV interest
"Elsewhere, parallel supply chain issues in getting fuel to forecourts in the past few weeks has had the unsurprising consequence of amplifying interest in electric vehicles. EVs gained further market share this month, rising significantly to 15.2% from 10.9% in August. This compares to 2.2% in September 2019; the nearest pre-pandemic comparable.
"Whilst it's too soon to see any immediate impact of the petrol and diesel shortage on EV sales, the inconvenience of long queues and empty pumps has jump-started many motorists to explore the switch to electric.
Equitable charging required
"With battery electric vehicles outpacing even plug-in hybrid this month, this demonstrates a level of consumer confidence that the charging infrastructure will be in place. However, gaps still remain and a more equitable rollout of public charging points would ensure EVs are also accessible to those households without off-street parking.
"Petrol and diesel shortages may have also inadvertently created some charge anxiety, so ensuring more visible charging points will only strengthen public confidence in EV feasibility."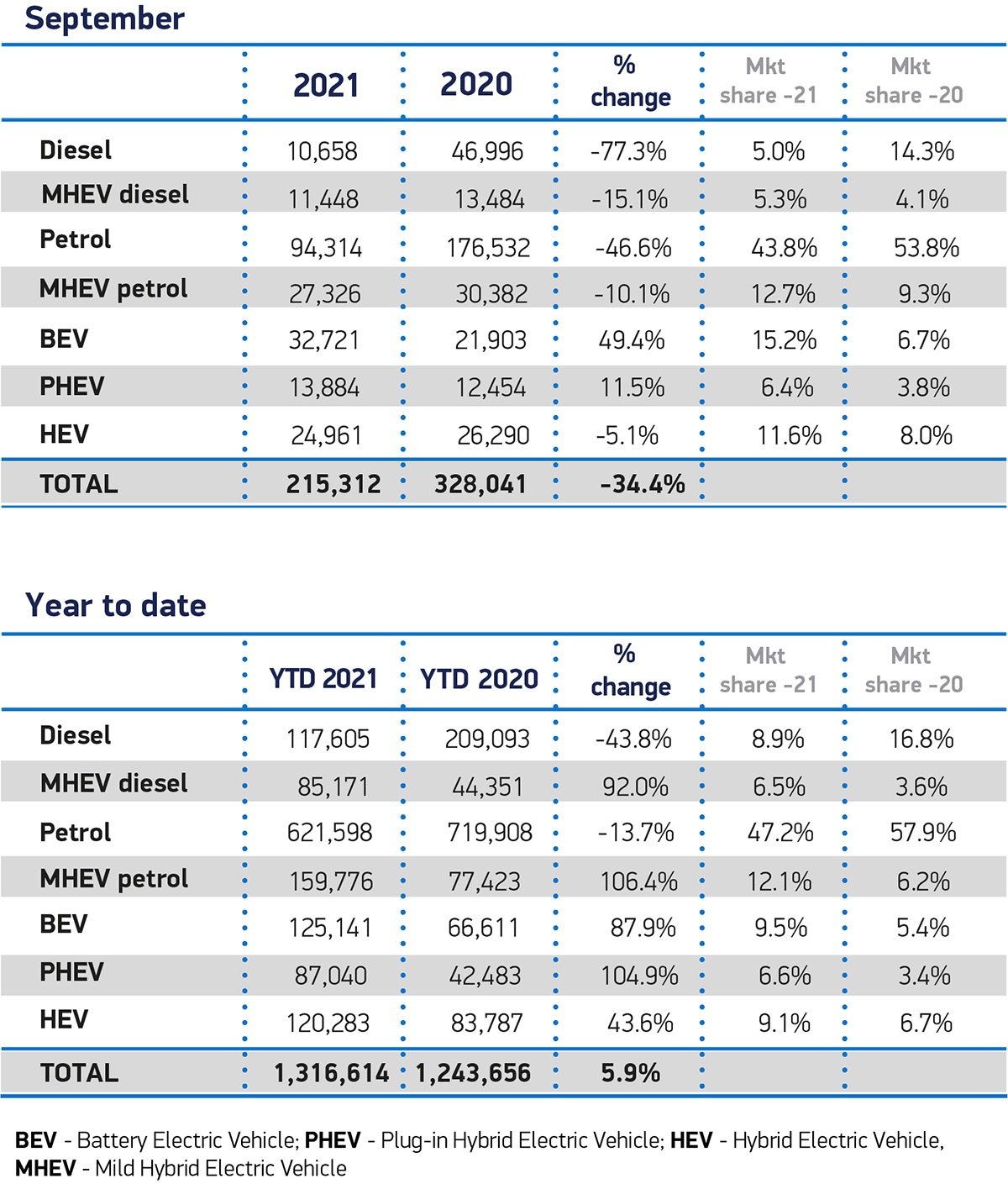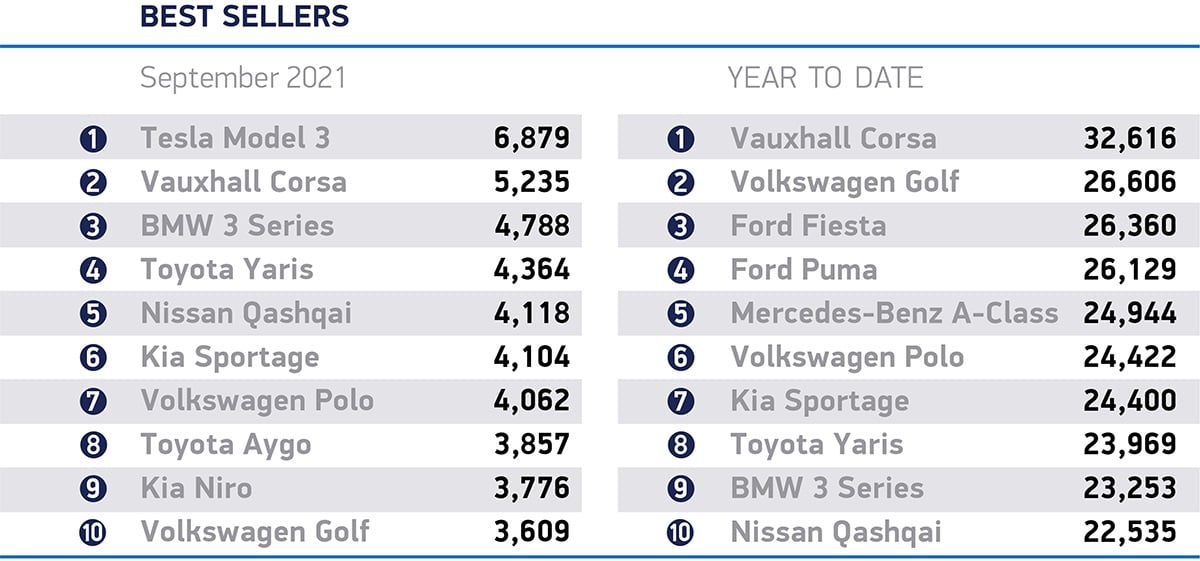 ---
1 Average September 2010-2019 – 389,680
2 37,850 BEVs registered in 2019
3 Average Jan-Sep 2010-2019 registrations – 1,864,937