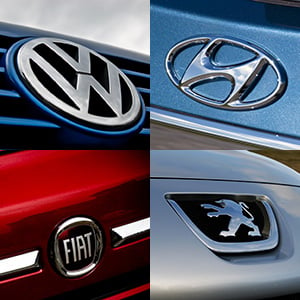 Show me your badges
It's all about the brand
An explosion of new van launches is sparking intense rivalry in the fleet industry but victory could be determined by nothing other than the badges on the van, rather than technical excellence or reliability, according to CAP Automotive.
This year has seen more new vans brought to market than since 2006 as manufacturers vie with one another to take advantage of the UK's economic recovery and implement changes in line with environmental concerns.
So far in 2014 the giants of the van world – Ford, Iveco, Renault, Vauxhall, Fiat, Citroen, Peugeot and Mercedes-Benz – have all launched new products into the light commercial vehicle market.
However Ken Brown of CAP argues that although every new van launched this year is better built, safer, boasts superior economy and driving experience than any of its predecessors the badge still remains the single most important factor determining what buyers will pay in the future used market.
Expected future used values are the ultimate key to success for all new vehicles. This is because large fleets – who are responsible for the bulk of new sales – always want to limit their exposure to depreciation. Lower expected depreciation means they can set more competitive leasing rates.
Brown explained: "Unfortunately for manufacturers it is never as simple as just building the best van – you have to have the best brand image to win the residual values war.
"We often see new vehicles from one manufacturer that are every bit as well built as those from a rival – or even superior to the competition – which eventually slip behind on values when they reach the used market.
The proof that badge brand image is the most important factor influencing what people will pay for a used vehicle is found among what the industry calls 'badge-engineered' LCVs – these are effectively the same vehicle with identical features and where the only tangible difference is the badge. For example Fiat's Fiorino light van is also badged by Citroen as the Nemo and by Peugeot as the Bipper. Although prices paid day to day for used examples vary, the long term trend for average trade prices clearly shows that buyers are willing to pay around 7.5% more for a Citroen Nemo than a Peugeot Bipper and 9.5% more than a Fiat Fiorino.
As this latest round of new LCVs enters the market, it would seem fair that the manufacturers who have paid the greatest attention to design and innovation will reap the greatest rewards but unfortunately the law of karma doesn't apply to LCVs. In reality it's the manufacturers who have built the strongest brands over an extended period of time that almost always come out on top.