Zenzic, the organisation dedicated to accelerating the self-driving revolution in the UK, has announced the five winners of its CAM Scale-Up programme. The unique scheme aims to give UK-based, innovative self-driving technology SMEs and start-ups the opportunity to test and develop their products through the world-leading CAM Testbed UK, a unique testing ecosystem created to aid the development of connected transport and self-driving vehicle technologies.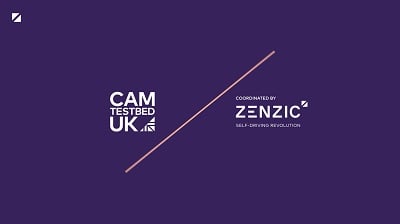 The Zenzic CAM Scale-Up programme is supported by the Centre for Connected and Autonomous Vehicles (CCAV), and delivered in partnership with Plug and Play. It will give the winning SMEs valuable time and support to validate safety and security elements of their product. The programme offers a unique opportunity to test their products in realistic environments across the various CAM Testbed UK facilities allowing them to deliver better connected and self-driving technology solutions to market faster.
Announced at Zenzic and Plug & Play's Innovation Day, the five winning start-ups will gain access to a shared pot of £500,000 in grant funding, as well as world-class technical and business assistance.
The five winning SMEs are:
The winners will also be entered into Plug and Play's extensive and impressive global ecosystem for the duration of the programme, which means:
Regular check-ins and mentorship from Plug and Play experts, providing feedback and goals and objectives
Ongoing links to corporate and venture capital across mobility hubs in Europe, Silicon Valley, China, Japan and Detroit
Opportunity to present at the relevant Plug and Play Summits in Silicon Valley and other international offices with the aim of generating inward investment.
Daniel Ruiz, CEO of Zenzic, said: "We were incredibly impressed with the level of quality showcased by all the companies who were shortlisted, and we sincerely thank them for entering. The five exciting companies who are being enrolled in the Zenzic CAM Scale-Up programme deserve particular congratulations for what they have achieved so far and for the huge strides forward they are taking. The UK has a strong track record delivering trusted, world-class solutions across safety assurance, cyber security, simulation, and certification. All these capabilities are vital to support the safe roll out of CAM services over the next 10 years, as per the UK Connected and Automated Mobility Roadmap to 2030. The Zenzic CAM Scale-Up programme will enable the winning SMEs, who are already working in these sectors, to deliver their innovative products to market much faster. The opportunity to safeguard and support new UK capabilities is now all the more important as the country seeks to accelerate growth out of the sharp economic downturn."