Autoglass, the UK's leading vehicle glass repair, replacement, and recalibration company, is today announcing a new partnership with BOSCH that will see the global technology provider become the supplier of choice for its market leading ADAS (Advanced Driver Assistance Systems) recalibration service. The company is rolling out the new BOSCH Connected Recalibration tools in all of its centres and will have completed UK coverage by January 2022.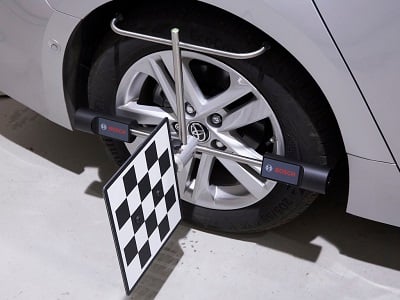 The state-of-the-art recalibration tools have a digital camera system that understands a car's exact position and guides the technician through every step of the set-up process. This ensures that every recalibration is conducted and recorded precisely, closely in line with the manufacturer's target specification. The new technology thereby increases in-house capabilities at Autoglass, meaning 99.4% of vehicles can now be recalibrated in house and reducing the need for dealership referrals.
The technological evolution of ADAS has accelerated since its introduction, and Autoglass has consistently invested in recalibration tooling, equipment, and technician training to stay on top of the latest innovations. Newly introduced ADAS technologies, DOIP (Diagnostics Over the Internet Protocol), multi-DOIP, secure gateways, and vehicle encryption, mean that one recalibration tool will no longer fit all needs, which is why Autoglass has formed a global partnership with BOSCH, the global leader in vehicle diagnostics.
The Autoglass team has been heavily involved in the research and development of the new tools and has already rolled out a comprehensive training programme on the equipment to technicians, making it well positioned to spearhead their implementation across the UK during 2022 and onwards.
Tim Camm – Technical Training Manager, Autoglass says: "At Autoglass, we always aim to stay one step ahead of the latest technology hitting UK roads, and ADAS is currently at the cutting-edge of that technological wave. Our previous generation of tools have served us well, allowing us to provide a market leading recalibration service, but we must futureproof our offering to prepare for the vehicles of the future and the needs of our customers.
"This is a significant partnership with BOSCH, and one that will allow us to provide state of the art ADAS recalibration services across our business for years to come. A more advanced and efficient set-up process, along with more enhanced compliance reporting for our technicians, also means even better customer satisfaction and less downtime for every vehicle in need of attention."