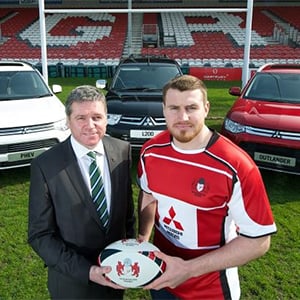 Today is the start of an exciting new partnership between Mitsubishi Motors UK and Gloucester Rugby. As announced back in March the three-year agreement will see the famous three diamonds Mitsubishi logo appear on the club's playing and training shirts, replica wear, as well as significant branding around the Kingsholm stadium and surrounding the pitch.
Mitsubishi Motors (UK) has been a sponsor of Gloucester Rugby for eight years but this move represents a considerable increase in commitment to the club, at a time when the Mitsubishi brand presence is growing rapidly in the UK.
Lance Bradley, Managing Director, Mitsubishi Motors (UK) said: 'We have been great supporters of Gloucester Rugby over the years and the club's fan base runs deep into our organisation. We will be embarking on many exciting initiatives together and are delighted to be the club's main partner.
'Gloucester Rugby is one of the most famous clubs in England. They regularly play live on TV. Our sponsorship will see the Mitsubishi brand being viewed over 16 million times a season'.
The tough and robust nature of rugby fits very well with the Mitsubishi brand. This agreement will cover a period in which the company launches several important new models, not least a brand new L200 pick-up truck, which is an iconic symbol of Mitsubishi reliability and strength.
Gloucester Rugby Chief Executive Stephen Vaughan expressed his delight at the prospect of working hand in hand with Mitsubishi Motors (UK). He said: 'We are thrilled to have Mitsubishi Motors (UK) as our new main partner. We already have a strong working relationship and we look forward to building on this over the next few years.
'Our new partner is based locally in Cirencester but has global reach and share, with very similar aspirations for its business as we do. We both have a burning desire to see Gloucester Rugby competing for honours going forward.
'It's a fun, exciting brand and a great fit.'