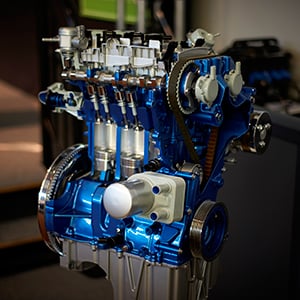 A tiny petrol engine, which drivers across Europe have taken to their hearts for its excellent fuel efficiency and impressive performance, has received an eighth award in four years at the 2015 International Engine of the Year Awards.
For the fourth consecutive year, the Ford 1.0-litre EcoBoost was named "Best Engine Under 1.0-litre." It was judged the class winner – based on drivability, performance, economy, refinement and technology – by a panel of 87 automotive journalists, from 35 countries. Last year, the 1.0‑litre EcoBoost became the first engine to be named overall International Engine of the Year three times in a row, and was in 2012 named "Best New Engine."
Ten models in Europe can be equipped with the 1.0-litre EcoBoost engine. One in five all-new Ford vehicles sold in Europe in 2014 were equipped with the 1.0-litre unit, including almost two in five for Fiesta.* Ford also is exploring an innovative new approach to cylinder deactivation that could help deliver further enhancements.
"The 1.0-litre EcoBoost engine changed the game for small petrol engines and we're proud it remains best in class despite a growing number of competitors," said Joe Bakaj, vice president, Product Development, Ford of Europe. "The spirit of innovation that helped us create this engine is alive and well and we continue to develop new engines."
Ford is working with engineering partners at the Schaeffler Group to test a new dual mass flywheel that enables cylinder deactivation to take place at a wider range of engine loads and speeds, and to enhance refinement. On-road tests using a working prototype at the European Research and Innovation Centre in Aachen, Germany, showed fuel efficiency improvements of up to 6 per cent.
"Even for an aggressively downsized engine such as the 1.0-litre EcoBoost, a significant improvement in vehicle fuel economy could be found by exploiting cylinder deactivation," said Carsten Weber, advanced powertrain manager, Ford of Europe. "The highest priority in the development of new combustion engines for automotive applications is the ongoing reduction of fuel consumption."
Available with 100 PS, 125 PS and 140 PS, the 1.0-litre EcoBoost engine powers vehicles in 72 countries worldwide. Previously the engine also has been awarded the International Paul Pietsch Award 2013 for technological innovation in Germany; the Royal Academy of Engineering Colin Campbell Mitchell Award; the Dewar Trophy from the Royal Automobile Club in Great Britain; and in the U.S., the Breakthrough Award from Popular Mechanics magazine. Ford is the first automaker to win a Ward's 10 Best Engines trophy for a three-cylinder engine.
Globally, Ford's range of powerful yet fuel-efficient EcoBoost engines includes 1.5-litre, 1.6‑litre, 2.0-litre and 2.3-litre four-cylinder engines, and 2.7-litre and 3.5-litre V6 engines. The latter is being developed to power the all-new Ford GT supercar that will see the company return to racing in Le Mans in 2016.
"Ford's 1.0-litre EcoBoost remains one of the finest examples of engine downsizing," said Dean Slavnich, co-chairman of the 17th International Engine of the Year awards that were held in Stuttgart, Germany, and editor of Engine Technology International magazine. "This fantastic three-cylinder shows there is still a way to go for the internal combustion engine."