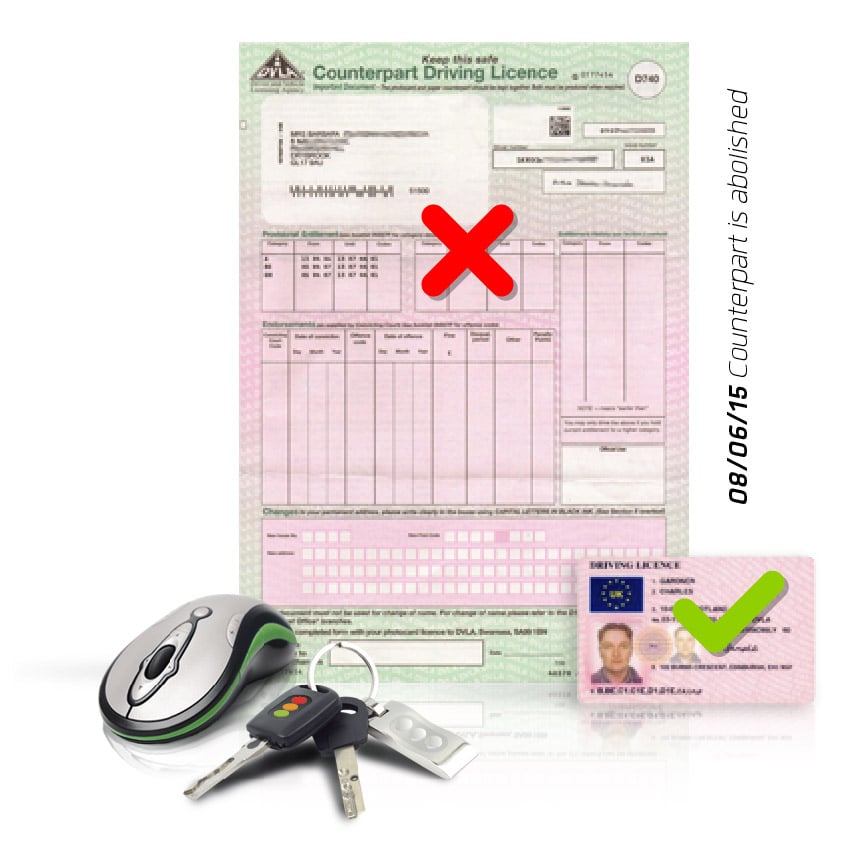 How have you fared?
The past week has been a landmark in the history of the UK driving licence with the abolition of the counterpart.
As of 08/06/15 the UK counterpart became invalid and this gave rise to a lot of questions and speculation around the changes. As the paper tax disc went in October 2014 (amidst confusion and system crashes) we look at how things have gone in the past 7 days of the licence changes.
Recent changes
Most notably the new DVLA web services have been implemented to handle the change by allowing drivers and employers/hire car companies the ability to view driving licence data online. This was meant to be a simple and effective solution to replace the paper version of the licence where the endorsements are shown.
Main observations
The system crashed on the first day due to an overload of traffic, and several times over the course of last week (see Guardian report here)
The new platform requires all drivers to register and then generate a one-time use code which lasts 72 hours to give to their employer or rental company
The companies then need to use the driving licence number of the driver combined with this one-time code to access the live driver record
People travelling have struggled with the code expiring when flying abroad and not being able to prove their licence status
Reports have shown that the new 'driver view' (called View Driving Licence) is being abused by employers and hire companies in a bid to sidestep the access code route – which is breaking data protection laws for personal data access
Driving Monitor have polled its customers to find out which key questions are being raised the most, and have found the following top 5 questions:
Will I be able to check my employees' licences using the new DVLA system as we have more than a handful of drivers?
Does the DVLA system give me any management reports as to the status of my drivers across the business, or is this a one-time view of a single driver?
If this is a free service, how much will it cost me in admin staff time to operate?
Does the DVLA service provide alerts or notifications as to points offences on licences?
Do I need to consider any data protection issues for checking employee licences or can I use the new 'View Driving Licence' as an employer on behalf of the driver?
In response to these questions Driving Monitor have produced a series of free video guides to give UK fleet managers the inside track on what to look out for when using the new digital services. These video guides are also accompanied by a free guide download document, which sets out the different options for the digital services.
To access the free video guides and top tips downloads you can visit www.driving-licence-checks.co.uk/free-guide