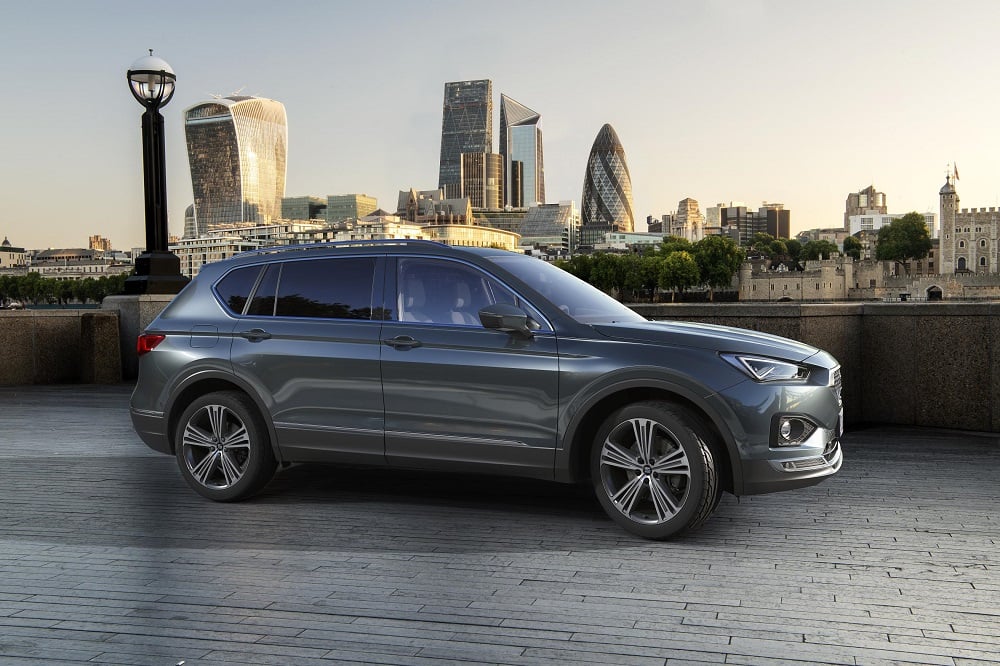 SEAT has now opened for ordering on its first large SUV and new flagship model, Tarraco. The seven-seater, which sits above Arona and Ateca to complete the Spanish brand's SUV line-up, is attracting attention with its high level of standard spec: metallic paint, 17" Alloys, DAB, alarm and Full Link for just £28,320 OTR.
Tarraco mixes state-of-the-art technology with dynamic and agile handling and is produced in Wolfsburg on the MQB-A LWB architecture. Combining practicality and functionality with an elegant and progressive design, it is the first model to show the new direction being pursued by the Martorell-based team led by Alejandro Mesonero-Romanos.
Richard Harrison, Managing Director of SEAT UK, said: "We are thrilled to close what has been a fantastic year for SEAT UK by opening for orders on our new flagship model, Tarraco. Our first-ever large SUV is a cracker, and the perfect way to complete our full range of SUVs, joining the multi-award winning Ateca and Arona. Tarraco is already turning heads with its eye-catching combination of fresh design language, state-of-the-art technology and an enjoyably dynamic drive.  Add to that our innovative easymove range structure, which means customers get a great level of standard specification and metallic paint included for free, and Tarraco represents exceptional value for money. It is sure to fly out of showrooms in the new year."
Building on SEAT UK's successful easymove strategy, which simplifies the buying process, four different trim levels are available: SE, SE Technology, XCELLENCE and XCELLENCE LUX. OTR prices start at £28,320 for the SE 1.5 TSI Evo 150PS; £29,330 for the SE Tech; £30,410 for XCELLENCE and £32,135 for XCELLENCE LUX.
Metallic paint, Full Link, DAB, 17" Alloy wheels, alarm and three zone climate control are part of the standard spec across all trim levels. SE Technology adds on navigation, dark tinted windows and 18" Alloy wheels, while XCELLENCE adds wireless charger, ACC, rear view camera, electric tailgate, 19" Alloy wheels and Alcantara upholstery. At the top of the range, XCELLENCE LUX adds further spec of top view camera, 20" Alloy wheels, leather upholstery and a winter pack.
The engine and transmission line-up includes a 1.5 TSI 150 PS, 2.0 TSI 190 PS DSG 4Drive, 2.0 TDI 150 PS (including a DSG 4Drive option) and a 2.0 TDI 190 PS DSG 4Drive. All engines benefit from direct injection, turbocharging and stop-start technology.
SEAT's first large SUV measures an impressive 4735mm in length, 1658mm in height and 1839mm in width. The notable boot capacity comes in at 1775litres when all rear seats are folded, 700litres when the third row only is folded and 230litres when the second and third rows are upright. A range of seven colour options, which as part of the easymove strategy are all included in the price, are available: Dark Camouflage, Oryx White, Reflex Silver, Atlantic Blue, Indium Grey, Urano Grey and Deep Black.
An exciting range of UK First Editions will also be available for a limited time from launch:
SE Technology First Edition 1.5 TSI Evo 150PS (£30,475 OTR) + rear view camera + safe driving pack + wireless phone charger + dark tinted windows
XCELLENCE First Edition 1.5 TSI Evo 150PS (£33,260 OTR) and 2.0 TDI NR 150PS (£34,745 OTR) + 20" Alloy wheels + panoramic sunroof + winter pack + safe driving pack
XCELLENCE First Edition Plus 2.0 TSI NR DSG-auto 4Drive 190PS (RRP £38,020, tbc for OTR) and 2.0 TDI NR DSG-auto 4Drive 190PS (RRP £39,505, tbc for OTR) + Beats audio system + Electric driver seat
SEAT is the only company that designs, develops, manufactures and markets cars in Spain. A member of the Volkswagen Group, the multinational has its headquarters in Martorell (Barcelona), exporting 80% of its vehicles, and is present in over 80 countries through a network of 1,700 dealerships. In 2017, SEAT achieved worldwide sales of nearly 470,000 vehicles.
The SEAT Group employs close to 14,700 professionals at its three production centres – Barcelona, El Prat de Llobregat and Martorell, where it manufactures the highly successful Ibiza, Leon and Arona. Additionally, the company produces the Ateca and the Toledo in the Czech Republic, the Alhambra in Portugal and the Mii in Slovakia.
The multinational has a Technical Centre, which operates as a knowledge hub that brings together 1,000 engineers who are focussed on developing innovation for Spain's largest industrial investor in R&D. SEAT already features the latest connectivity technology in its vehicle range and is currently engaged in the company's global digitalisation process to promote the mobility of the future.