Scania is launching a limited edition of 25 flagship S-series Highline tractor units in celebration of the 50th anniversary of its V8 engine.  Available in either two- or three-axle format, each truck in the series will be individually numbered and distinguished by a range of features unique to the edition. In addition, each vehicle will be appointed with Scania's high-end V8 styling package.
"Since its debut in 1969, the Scania V8 has been turning heads around the world.  Today, it enjoys legendary status among operators and drivers alike and is regarded by many as the King of the Road," comments Vincente Connolly, UK Sales Director for Scania (Great Britain) Limited.  "In the UK, the V8 is an integral part of our success story representing a significant proportion of our sales – especially to long-haul operators, particularly those in Scotland and Northern Ireland.  We are therefore delighted to be celebrating the engine's golden anniversary with this unique limited edition, and I would encourage anyone interested to contact their local Scania dealer as soon as possible to avoid disappointment."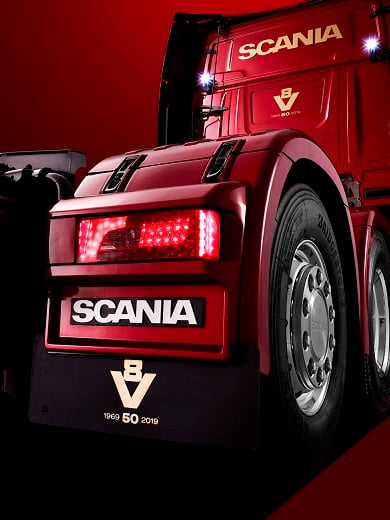 Available in three distinctive anniversary colours – Ruby Red, Arctic Silver and Sapphire Blue – key features of the series include anniversary cab badges displaying each vehicle's individual limited edition number, exclusive puddle lights and badged hub caps and mudflaps.  In addition, every owner will be presented with a specially-commissioned numbered certificate commemorating their purchase of a 50th anniversary Scania V8.
Other external features distinguishing Scania V8s include chrome trim grille air intakes, side windows and door handles and a rectangular left-side exhaust pipe design.  Inside, there is a specially-designed 50th V8 anniversary badge, as well as the V8's unique chrome door sill strip and styled pedals with rubber pads.  Additional luxury fitments in the limited edition include embossed leather seats with exclusive red V8 stitching, a microwave oven, coffee machine and a large screen infotainment system.
---
The Scania V8 – a brief history
Scania's decision to develop an eight-cylinder engine was taken in the early 1960s, in response to operators demanding more than the company's established 11-litre straight six could deliver.  The attraction of the V8 configuration is that it is relatively small in physical size compared to its output and can thus deliver more power and torque in a given space than its six-cylinder counterparts.
At the time of its launch in 1969, the first incarnation of Scania's V8 displaced 14.2-litres and developed 350 horsepower and 1,245Nm of torque.  As time went by, incremental power increases were regularly introduced.  When the company celebrated its centenary in 1991, the range-topping R143 Streamline could be specified with a 500 horsepower V8 variant. By the mid-1990s, the power had been upped to 530 horsepower and torque increased to 2,300Nm.  Despite having been increased by 180 horsepower, the underlying design of the Scania V8 remained the same as the day it was launched back in 1969.
A major change came about in the year 2000, when Scania launched an extensively revamped V8 unit as part of its engine platform for the Euro 3 exhaust emissions standard and beyond.  Swept volume increased from 14.2 to 15.6-litres, with a longer stroke and four valves per cylinder.  Designated DC16, (D for diesel, C for charge-cooled and 16 standing for the capacity in litres), the power once again increased, this time to 580 horsepower and 2,700Nm torque.
Today's Scania's V8 has been developed further, with a displacement of 16.4-litres and available in power steps of 520, 580, 650 and 730 horsepower.  While the 730 unit utilises both Selective Catalytic Reduction (SCR) and Exhaust Gas Recirculation (EGR) to ensure Euro 6 compliance, the 520, 580 and 650 variants operate on SCR-only.