Located at the group's Renault Trucks South dealership in Reading, the new recycling centre is a fully Authorised Treatment Facility (ATF) specialising in Renault Trucks Genuine second life parts.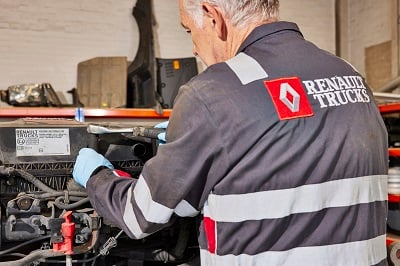 The facility, which will carefully select end-of-life Renault trucks to meet sales demand, is perfectly positioned to meet the growing demand for high quality, competitively priced recycled genuine parts.
Con Rooney, Managing Director, Renault Truck Commercials, says: "We are proud to open the doors of the first fully authorised genuine parts recycling centre in the Renault Trucks network."
Con Rooney continues: "As all sectors of the market and supply chain have been affected by the challenges of the global pandemic, this investment is further evidence of our long-term commitment to supporting customers with more affordable, quality options that are a commercial and environmental 'win-win'."
For Steve Astill, Group Parts Manager at Renault Truck Commercials, the assurance that every vehicle is certified through the manufacturer's fleet file for total transparency is key: "We know the service history of every part on every Renault truck that comes through the facility, which gives customers real peace of mind. Additionally, all major recycled components come with a warranty.  Our qualified technicians work to exacting manufacture standards to remove the parts, which are cleaned, prepared and stored ready for sale."
The new facility is designed to ensure the highest standards in health and safety, and to the environment.  Steve Astill adds: "We try to sell as much as possible from the vehicles we process, however anything we can't sell is disposed of through our waste conscious streams, correctly recycled right down to the copper from our wiring looms."
A full listing of quality recycled parts are available to purchase at the dedicated sales website recycled.renaulttruckcommercials.co.uk with same day dispatch available for orders before 4pm week days, however if there are any requirements outside the parts listed on the website, the centre welcomes all enquiries.
New parts website
Further enhancing its total parts offer, Renault Truck Commercials has also launched a new parts website that improves the customer journey, product advice and support.
Fully optimised for mobile, the website parts.renaulttruckcommercials.co.uk has been designed around the customer to select and purchase the right part seamlessly.
Key features include a unique VIN number search option ensures the customer shops the correct parts for their vehicle.  For further clarification, the 'Fit on my truck?' button for each listing allows customers to ask a question which will be answered directly by Renault Truck Commercial's sales team.
Con Rooney concludes: "Our new parts website makes it easier for our customers to shop with us at a time that suits them, backed by the expertise and professionalism of our dedicated aftersales team.  Renault Truck Commercials offers a total parts solution for every customer, from new and reconditioned exchange components to recycled parts at competitive prices."