The Buckinghamshire-based Relay Technical Transport is a market leader in the storage, handling and distribution of delicate and valuable electronic equipment.
Every one of its 54 vehicles arrived via the manufacturer's representative in Hampshire and Dorset, which has been trading since 2017 as Marshall Truck & Van. Most wear three-pointed stars but the line-up also includes seven FUSO Canter 7.5-tonners – FUSO, like Mercedes-Benz Trucks, is part of the Daimler Truck family.
With the exceptions of seven Actros tractor units, all of these vehicles have highly bespoke box bodies built, fitted and liveried in Ferndown, Dorset, by Horton Commercials.
Relay Technical Transport, which has headquarters in Iver and depots in Coatbridge, Northampton and Warrington, has been an all-Mercedes-Benz and FUSO operation for more than two decades and enjoys long-standing relationships with both suppliers.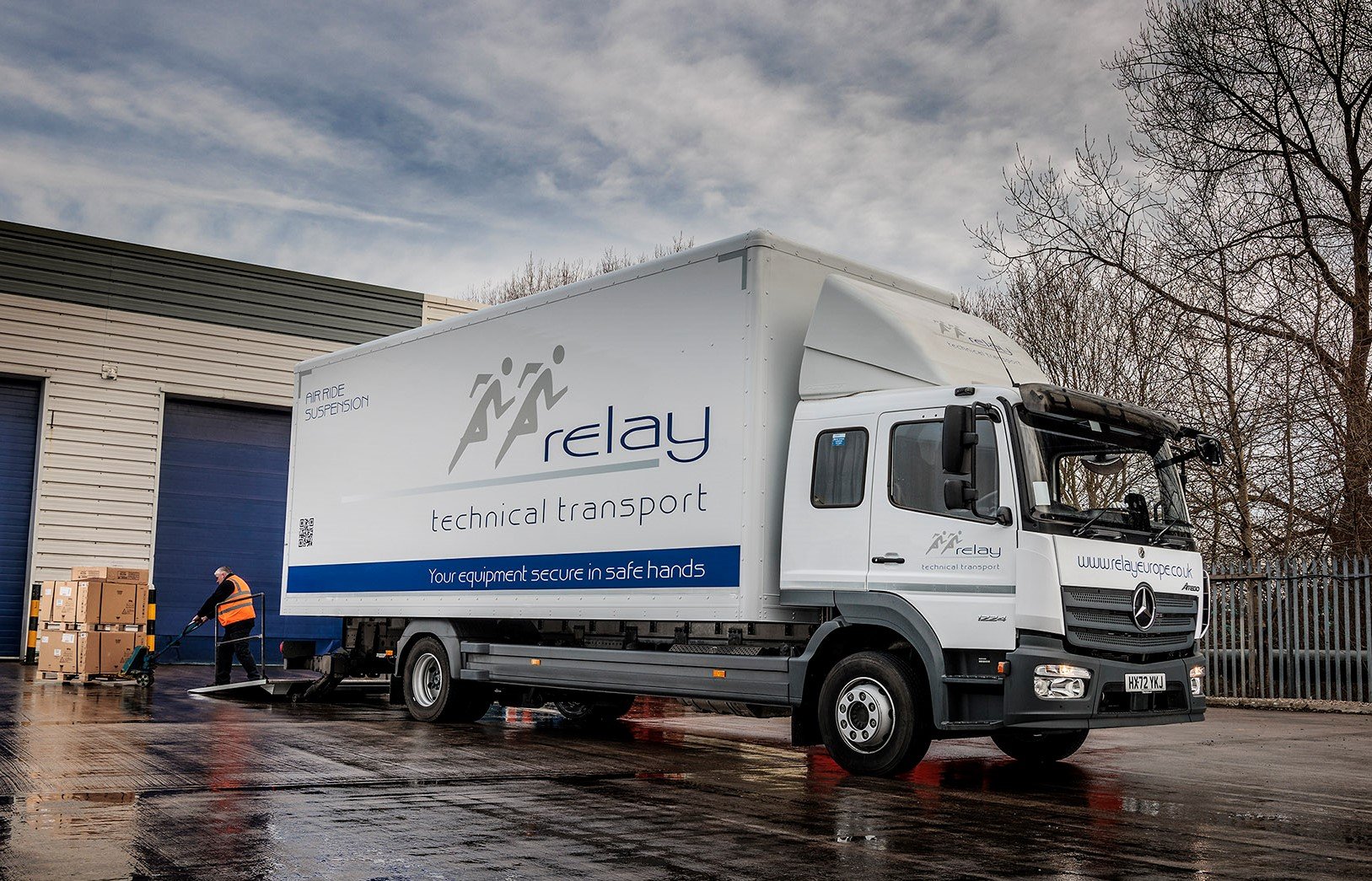 Atego 12-tonners account for more than half of the vehicles on the Relay fleet. Its latest order was for five more of these, as well as a pair of 18-tonne Actros with VBG couplings for drawbar trunking in Scotland.
Body specifications include insulated roofs, load lock tracking, padded tie rails and diesel/electric Eberspacher heaters with full-length airsocks to protect fragile cargoes such as photocopiers and printers, audio-visual and telecommunications equipment, and vending and coffee machines. The trucks are also fitted with Bär Cargolift cantilever tail-lifts – the Atego's have 2.0-tonne capacities, while those on the Actros are rated at 2.5 tonnes.
The Atego, the latest of which has just been delivered to Warrington, have ClassicSpace L-cabs with additional side windows and an innovative seat-bunk combination. This option provides seating for four people, each of whom gets an integrated safety belt; the seat can also be pulled out and double as a bed if required.
As 1224L variants they ride on air suspended rear axles and employ 7.7-litre in-line six-cylinder engines that produce 175 kW (238 hp) and drive through six-speed Mercedes PowerShift 3 automated manual transmissions.
The Mercedes-Benz Atego range from 7.5-16 tonnes GVW offers outstanding driving dynamics, comfort and manoeuvrability. It is also renowned for its industry-leading reliability and durability, virtues to which Relay Technical Transport Operations Director Tom McMahon can attest.
"I've been with this business for 23 years and can't recall us running anything other than Mercedes-Benz and FUSO trucks," he said. "The Atego has been ever-present because it's such a fantastically reliable piece of kit. We currently have in excess of 30 and they just don't let us down."
Mr McMahon said that as a result of the Covid pandemic – during which Relay was heavily engaged in delivering freezers to vaccination centres nationwide – and associated supply issues the company had fallen behind with its vehicle replenishment programme.
"We're an image-conscious business and like to run a fleet that's as modern and efficient as possible," he said. "So we have a robust replenishment programme that's based on updating our vehicles every five years.
"However, we're currently replacing Atego that have been on the road for 10 years and clocked-up 800,000 km. They've certainly not been falling down on us, though. Rather, they've still been out there, day in, day out, and doing a great job.
"Sixty months is the average age across the fleet right now, but that will come down significantly once we've replaced the remaining, older vehicles, which we'll be doing this year."
The 12-tonne Atego is also available with a 5.1-litre four-cylinder powerplant in four output ratings, but Mr McMahon continued: "We now choose the 'straight six' because we believe this means there's less pressure on the engine, which contributes to longevity."
Relay's trucks are always crewed by at least two individuals trained to handle vulnerable loads, but the Atego's ability to accommodate up to four in comfort and safety provides welcome extra flexibility.
Although routine inspections and servicing of its Mercedes-Benz and FUSO fleet are undertaken by a combination of 'in house' technicians and an independent partner, Relay relies on members of the manufacturer's official Dealer network for deliveries of GenuineParts and warranty work.