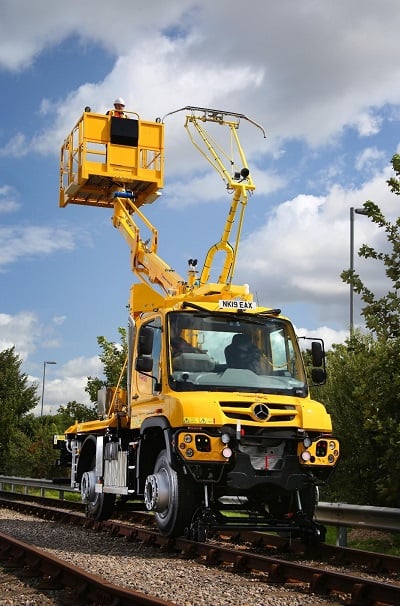 Powertrain products specialist LH Group Services has renewed its successful partnership with Mercedes-Benz Trucks after winning a prestigious order from Network Rail for eight Unimogs adapted for use on rail, as well as on road and rough terrain.
The 4×4 trucks are based on 13.3-tonne GVW U423 chassis supplied by Dealer Lloyd Ltd, and have been undergoing conversion at LH's production facility in Barton under Needwood, Staffordshire.
Specified for overhead line work, all bar one are being fitted with six-metre access platforms that have safe working load capacities of 400 kg. The exception is the final vehicle, for which LH has designed a 2,500 kg scissor-lift.
The first five will be based across Scotland, with the remaining three earmarked for operation in the East Midlands, where Network Rail recently completed a major upgrade project designed to improve services between Corby, Kettering and London.
The Unimog's unrivalled off-road capability and high (56 mph maximum) on road speed, together with its proven reliability and the excellent visibility afforded by its extensively glazed cab, combine to make it ideally suited to this demanding role.
The eight new vehicles are joining a Network Rail fleet that already includes 26 Unimog road-railers, all of which were built by LH Group Services. Their Euro VI engines mean the latest arrivals are cleaner than previous versions.
LH was established in 1953 and has a long history of manufacturing, servicing and refurbishing Unimog-based road-rail vehicles. Part of the US-owned Wabtec Corporation, it has invested heavily to ensure that these products are fully certified for use on the railway infrastructure and on the highway.
The U423 employs a 5.1-litre in-line four-cylinder powerlant which produces 170 kW (231 hp) and drives through a fully synchronised manual transmission with eight forward and six reverse gears. Each truck is fitted by LH with additional bogies front and rear, to provide guidance for 'on rail' operation – these are deployed or raised hydraulically, from the cab.
Crucially, while other road-rail vehicles typically require a level crossing or RRAP (Road Rail Access Point) to join the track, the Unimog's 'go anywhere' prowess means that if none is available nearby it can comfortably traverse challenging ground to get to work. The fact that LH specifies the shorter of the two available wheelbase lengths also makes life easier for drivers.
The company's modular design concept, meanwhile, means that its bodies are quickly and easily interchangeable. As well as access platforms and scissor-lifts, it has built platform bodies, welfare units and even a drilling rig for Unimog road-railers.
In addition to the front- and rear-facing cameras supplied by Mercedes-Benz, LH is equipping each truck with a further four recordable cameras, underlining the commitment of its high-profile customer to safety and compliance.
Tony Culverwell, LH Group's Head of Industrial Products, commented: "We recommend the Unimog for road-rail applications simply because long experience has proved it to be the best vehicle for the job.
"Its all about flexibility and ease of operation. Railway access points can often be difficult and challenging, but not for a short-wheelbase, 4×4 Unimog. The truck also offers a massive on-rail towing ability and is exceptionally reliable, while the reduction in emissions is good news too, particularly for operatives working in tunnels."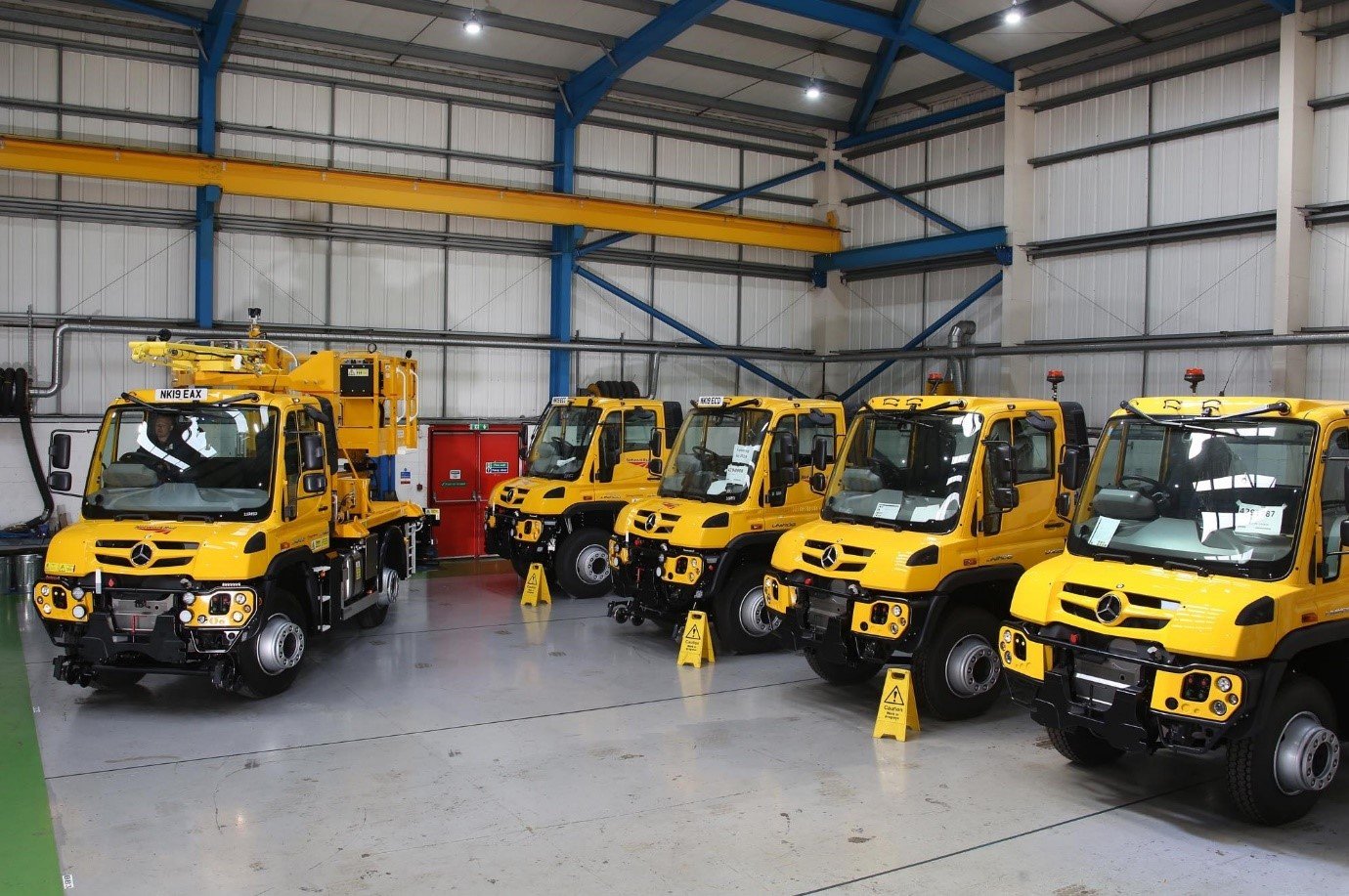 Mr Culverwell added: "We have access to all of the technical and other information we need to buy direct from Mercedes-Benz, and enjoy a very good relationship with the Unimog team here in the UK."
LH Group Services employs more than 400 colleagues on its 21-acre Barton under Needwood site. In addition to its work on road-rail vehicles, the company is a leading re-manufacturer of powertrain products such as power packs, engines, cooler groups, transmissions wheelsets and final drives, and manufactures, repairs and overhauls locomotives through its Hunslet subsidiary.
Wabtec Corporation, which acquired LH in 2012, is a global provider of value-added, technology-based products and services, primarily for the rail and transit industry. Through its subsidiaries the company manufactures a range of products for locomotives, freight cars and passenger transit vehicles.