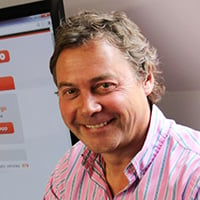 Richard Newbold

(CEO, TRIPLE A TRANSPORT)
(Founding Partner THE LOGISTICS TERMINAL)
(Managing Director, RETURNLOADS.NET)
Biography
After passing his HGV licence and his Certificate of Professional Competence in Road Haulage in 1984 Richard successfully applied for an Operator's Licence and set up as an Owner Driver in 1985 at 24 years of age.
Ten years later operating as Triple A Transport Services based at the Port of Tilbury in Essex, Richard was operating over 40 vehicles employing around 50 staff. Triple A, with its well-known logo is now considered to be one of the leading Haulage Companies based in Essex, running a mixed fleet of both articulated and rigid vehicles and offering clients a national warehousing and distribution service.
In the year 2000, Richard went on to set up www.returnloads.net which has grown in the past fifteen years to become the busiest Freight Exchange web site in the UK, allowing thousands of haulage companies to efficiently exchange loads over the world wide web. When the internet arrived on the scene for businesses in the late 90's and early 2,000's Richard saw an opportunity which would allow hauliers to work closely together by using the web. Before the internet became available, transport companies would make endless phone calls to each other in vain attempts to find backloads for their vehicles as they became empty miles away from where they were based and sometimes trucks could sit for days whilst their boss would try to find a load. Returnloads.net takes all the hard work away and streamlines the whole process allowing the subscribers to network with each other in an efficient manner, locating where the nearest loads are in relation to their empty trucks and automatically notifying the relevant parties. This has revolutionized the backload industry and is still growing at a rapid pace.
In January 2011, Richard set up 'The Logistics Terminal' which is a Portcentric, Warehousing and Handling operation based within the Port of London. With continuous expansion over the past five years TLT has grown from a small warehouse operation to become one of the largest players in this industry with over 500,000 sq ft of external storage and 250,000 sq ft of warehousing space within the Port. The Logistic Terminal now is a distribution hub for some of the largest companies in the UK, where TLT offer a total logistical service to major importers and retailers. TLT offer clients services ranging from Worldwide shipping, through to receipt of Shipping Containers directly into their facility within the Port, offloading, restitution and storage followed by National and International distribution.
Richard is a serial entrepreneur with several other wide ranging business interests but his heart is firmly within the logistics industry. He now encourages students from local Business Colleges by giving talks on business and relaying his own experiences to future entrepreneurs.
Having spent the past thirty years in the Transport & logistics industry Richard is now thought of as being one of the industry leaders but has kept his focus on customer service and being fair to suppliers.