Dreaming of that perfect getaway? The nice hotel, the buffet breakfast, the days by the pool? Ever thought your tyres might be feeling similar?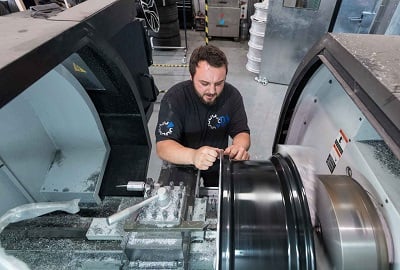 Well, a Chorley-based wheel repair and refurbishment business – which prides itself on its quality of care and standard of service – has just built the UK's first 5* Hotel & Spa for your wheels. It's calling it the go-to destination for your wheels to relax, rewind and recuperate after a busy season of ferrying you about.
DA Techs came up with the idea through working with thoughtful car owners, many of whom follow sound advice to keep a set of Summer and Winter tyres and get them changed every March / April, and again in October / November, as each new season rolls around.
However, the storage of these spare tyres often takes up a large amount of space in any ordinary garage and the requirement to keep tyres cool, dry, well ventilated and away from direct sunlight, to prevent the quality from becoming affected, can become a difficult one. So, instead, the easy solution provided by DA Techs is that customers can now sign their tyres into the new 'Hotel & Spa', where they will be stored, with any damages repaired, and fully treated to be brought back up to manufacturing standard. In other words, some serious TLC will take place!
Jamie Baxter, Director of DA Techs, said: "UK motorists are willing to spend so much on their cars – the insurance, the MOTs, the paint jobs, the general upkeep. But, for some reason, disregard the need to do much with their wheels and tyres. We think the reason for this is the hassle of it – the inconvenience of storing large tyres at home, and the time-consuming task of changing them.
"That's where the UK's first Wheel Hotel & Spa comes in. Thoughtful motorists can simply check their tyres in, know they're in safe hands for the Summer months and getting luxury treatment, before returning to the hotel in October or November to get them switched. It's as simple as that."
The trip away comes in at a very affordable price too – just £19.99 per month. Plus, the hotel managers will even chuck in a free Nitrogen Tyre Inflation, making it a real bargain.
This initiative is just one of the many updates taking place at the North West business. For example, it has recently undergone an expansion worth £250,000 – enabling it to provide all of its customers, from large fleet providers and car supermarkets, to independent garages and private clients, with a one-stop-shop for high-quality bodywork repairs, alloy wheel refurbishments and tyre treatments.