Every operator of commercial vehicles will be familiar with the costs and liabilities involved, as well as the value they bring to the business.
Perhaps the trucks or vans were purchased outright, maybe they were acquired through hire purchase or possibly they were leased.
In the past, outright purchase of an asset has usually been the preferred choice, with leasing as a second-choice option for those without the cash available.
However, the situation is rapidly changing, and leasing is becoming an increasingly common option.
A 2020 survey by the British Vehicle Renting and Leasing Association (BVRLA) found that the key factors driving transport businesses to lease or rent included cash flow management and ease of budgeting, this being a trend across all sectors.
Delivery company Tuffnells has expanded its partnership with Enterprise Flex-E-Rent to cover HGVs on both rental and contract hire.
It is part of its new strategy to employ a mix of fleet funding methods, including ownership, leasing and rental.
The firm took 21 new 7.5-tonne DAF LF rigid trucks on six-year contract hire agreements, adding to the existing 170 HGVs and 20 delivery vans it has from Enterprise on a flexible rental programme.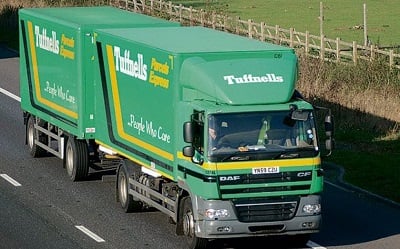 Simon Parsons, Services Director at Tuffnells, said: "Combining rental and ownership with contract hire means our fleet is ready to face any challenge.
"It means we can rapidly scale up or down as demand changes, it's easier to handle maintenance, and we get fast access to replacement vehicles at a moment's notice.
"The surge in demand caused by the lockdown is just one example of how important flexibility is to a business where being responsive to customer needs is the number one priority."
The BVRLA report found that more than half of all trucks and vans in the UK are leased, with less than 45% owned outright by operators.
It stated that about 25% of the leased vehicles are on contract hire – for at least 12 months – with a maintenance package.
The survey also revealed that repair and maintenance is a key factor in operators' choice of lessor.
According to Andover-based Howard Tenens Logistics, the experience of having leased vehicles well looked after by dealer Marshall Truck & Van over the last three years was a factor in its decision to place an order to buy outright 16 Mercedes-Benz Actros tractor units with complete service contracts.
Ben Morris, Howard Tenens Logistics Executive Director, said: "Marshall Truck & Van have done a really good job of ensuring the seamless changeover of the fleet and have also helped us to extend the maintenance contracts on some of the leased vehicles, which are now working elsewhere within the group."
As a result of the uncertainty the pandemic has created, some large fleet replacement decisions have been put on hold.
This has made the prospect of buying used trucks all the more tempting, especially for cautious firms wanting to grow, but looking to avoid any financial pitfalls.
Croydon-based MAH UK Transport recently expanded its fleet with several FH 6×2 tractor units from Volvo Used Trucks in Enfield, each no more than four years old.
Owner, Michael Harry, said: "We have been in a fortunate position where work has increased, and we have had a surge in demand.
"As soon as there was a need to grow the fleet, I turned straight to Volvo Used Trucks and they were able to help me secure the additional tractor units I needed quickly.
"Plus there is the added confidence of buying direct from the manufacturer; they can tell me the precise history of every truck, and the majority are returning ex-contract hire vehicles, meaning Volvo has looked after them from day one."
Vehicle subscription specialist Wagonex, which powers white label subscription platforms for brands including Renault Trucks, has also seen a rise in commercial vehicle subscription enquiries as fleets move away from traditional ownership to usership, seeking greater flexibility and choice.
Toby Kernon, CEO and founder of Wagonex, said: "Enquiries for all types of vehicles subscriptions are increasing massively as more and more people realise it's now possible to have the vehicle you want without long and costly financial commitments and on terms that suit you.
"But while much of the talk around subscription focuses on the passenger car market, the idea is one that works particularly well for business and fleets and so we're seeing real growth in LCVs and trucks."
Kernon says subscription timeframes work slightly differently when it comes to trucks and vans and the company is seeing most customers choosing vehicles on a weeks' subscription.
However, once they have subscribed, the vast majority of businesses tend to extend their subscription and keep the vehicle for longer, typically for around six months.
He said: "Speaking to many of these commercial vehicle subscription customers, most are using subscription as a quick, easy and cost-effective solution to plug logistical gaps and to provide extra capacity in peak periods.
"There are other benefits to subscription though. For example, many fleets know they'll be moving to electric at some point in the near future but the time's not quite right.
"In the meantime, they still need new vehicles to be able to operate but they recognise they probably won't get enough working life out of the vehicle to justify the costs of outright purchase or long-term leasing."
Andy Alderson, founder and CEO of online van leasing business Vanarama, also sees the shift away from ownership and towards usership continuing in both the car and commercial vehicle sectors.
He said: "At the end of the day, leasing is a subscription product, if you think about it. People talk about subscription being for three months or six months but, in reality, 80% of customers are opting for two-year subscriptions because changing a vehicle every three months is actually a bit of a pain, not to mention much more expensive."
"As electric commercial vehicles become more and more prominent we're also going to see leasing grow as people see it as a way of keeping pace with the speed of change.
"There's still a lot of fear, uncertainty and doubt out there about EV technology such as range and charging infrastructure. But, leasing helps eliminate that because the customer can upgrade every two or three years as these things improve, a bit like with their mobile phones."
---
Source: SMMT