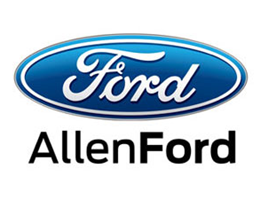 Allen Ford, one of the UK's leading suppliers of Ford cars and vans to both businesses and private motorists, has streamlined its entire loan fleet management process through FullCover from Cooper Solutions. FullCover allows Allen Ford's network of 30 locations across the south of England and the Midlands to efficiently manage current, future and historic appointments for all sales, aftersales and bodyshop loans.
Having used FullCover in previous roles with other dealerships, Allen Ford Group's Southern Service Director, Bill Davies, introduced FullCover to the group last year. He commented: "FullCover takes away all the hassle of loan fleet management. It has been specifically and expertly developed so that all of the information is easy to see. We can now accurately monitor performance at user, dealer and group level. This is possible through the extraction of customer loan charges from CDK using an ODBC licence, allowing us to make the best decisions to improve efficiency and increase profitability."
The integrated FullCover solution includes instant online licence checking and cost-effective daily rate insurance for drivers aged between 18 and 85 to ensure dealerships can easily fulfil their duty of care obligations and provide financial protection for Allen Ford in the event of an accident.  Cooper Solutions data shows that 1 in every 50 service customers do not meet the criteria for courtesy loan insurance and should in fact not be driving. FullCover instantly identifies these drivers.
Bill Davies continued: "FullCover gives us the opportunity to generate revenue from the CDW offering, which pays for our insurance cost, whilst also providing a valuable additional service to our customers. Initially we were concerned that a higher level of cover might encourage drivers to perhaps act recklessly but we aren't experiencing that at all. It's a genuine win-win for both the driver and the dealership."
Dean Pipitone, Director of Cooper Solutions added: "The other dealer groups in the Allen Motor Group, SMC Cars and Essex Auto Group, have used FullCover for many years. Now, with Allen Ford Group also utilising the solution, the entire Group is seeing the benefits, as are its customers. Arriving at the service desk, Allen Ford customers now find that their car has been booked in, in advance, making the courtesy car changeover slick and efficient.  Their driving licence is checked quickly, enabling the customer to drive away within minutes. This improvement in customer experience is invaluable, even without the added benefits of improved efficiencies, lower cost and increased profitability."