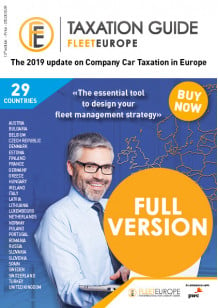 Where are Europe's new low-emission zones, and what are the rules governing them? Which countries are increasing the CO2 component in their vehicle taxes, and by how much? Who subsidises the introduction of EVs, and by which means? How have each country's specific rules on company car taxation changed over the past year?
For the answers to those questions, and many others, turn to the 2019 edition of the Fleet Europe Taxation Guide. Here's why you need it:
Overview and updates on car taxation in 29 countries across Europe
Special attention for taxation of corporate cars (Benefit in Kind, CO2, Electric Vehicles)
Expert insight on diesel depreciation, NEDC to WLTP implications, proposed fiscal changes, etc.
The trend towards a mobility approach increasingly requires in-depth knowledge of local tax rules
Specific information on tax breaks and subsidies for the introduction of EVs may inform your policy and benefit your TCO
Produced in conjunction with global accountancy specialists PwC, this overview and update of tax rules relating to corporate mobility across Europe's many markets is now appearing in its 13th annual edition. Over those years, it has become an increasingly sophisticated and indispensable tool for international vehicle fleet and mobility managers.
As fleet and mobility professionals hardly need reminding, the EU (let alone Europe as a whole) is not at all a unified market when it comes to taxation: each country sets its own rules. The degree to which they vary and the rate at which they change make a one-size-fits-all fiscal approach to cross-European corporate mobility virtually impossible.
What this complex, constantly changing fiscal constellation does require, is a clear, concise, complete and contemporary overview of the rules, as they are and where they are. And that's exactly what you can expect from the Fleet Europe Taxation Guide 2019.
The Guide covers the following 29 countries: Austria, Belgium, Bulgaria, Czech Republic, Denmark, Estonia, Finland, France, Germany, Greece, Hungary, Ireland, Italy, Latvia, Lithuania, Netherlands, Norway, Poland, Portugal, Romania, Russia, Slovakia, Slovenia, Spain, Sweden, Switzerland, Turkey, United Kingdom.
A useful section includes an overview of the main company car taxation changes that have been implemented in each country compared to last year.
For the first time, the Guide is exclusively available online, and can be purchased in modules (€40 per country, excl. VAT). The price for the entire Guide is €250 (excl. VAT).
For further details, go to: http://shop.nexuscommunication.be/