Rivervale Leasing submitted a Freedom of Information (FOI) request to the Driver and Vehicle Licensing Agency (DVLA) to uncover the most stolen cars in the UK.
Our new research reveals that a huge 56,288 vehicles were targeted by thieves last year. This equates to 1 vehicle stolen every 9 minutes, or 154 per day.
We also investigated a decade of government data to see exactly what thieves look for before they make a move. Discover more below and see if your car is at risk as we reveal the UK's top 10 stolen cars.
Ford Fiesta revealed as the number 1 stolen car in the UK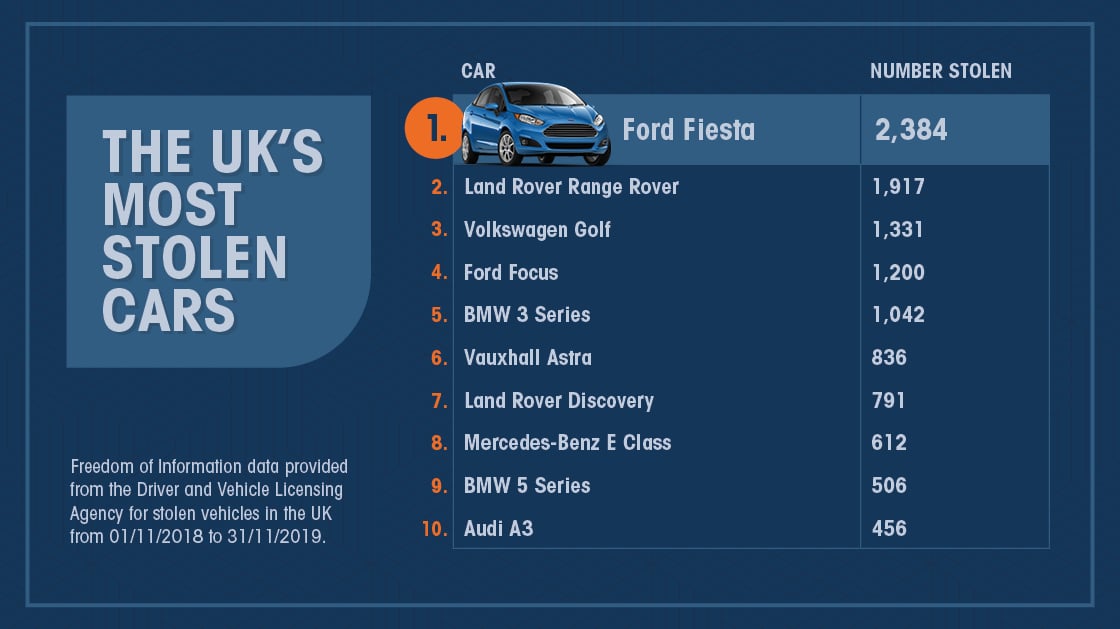 The FOI reveals that Ford Fiesta drivers are at the biggest risk of theft, with 2,384 models pinched last year. As one of Britain's best-sellers, these superminis are a firm favourite of many drivers, although it's clear that thieves have their eye on them too.
Closely following the Fiesta is the Land Rover Range Rover. With 1,917 models nicked last year, the high-price SUV is a clear target for criminals. But more Land Rover drivers are at risk as our investigation also reveals that 791 Land Rover Discovery cars were targeted. Another luxury choice which isn't far behind is the Mercedes-Benz E Class, which was subject to 612 thefts last year.
As so many premium cars are stolen each year, we analysed how many vehicles are returned to the owner. But the results may not give drivers much confidence.
Only 2 in 5 stolen vehicles are returned
After studying 10 years of data from the Office for National Statistics (ONS), we discovered that, on average, just 2 in 5 stolen vehicles are returned to the owner.
Even if you do get your car back, it's not likely to be returned in a good condition. Statistics also show that 75% of stolen vehicles come back damaged, with a shocking 22% written off completely.
84% of drivers' mental health affected by theft
Car theft doesn't just have a serious financial impact. Research shows that 84% of drivers were 'emotionally affected' by the robbery, according to the ONS data. Some motorists were even left with panic attacks, plus some experienced depression and difficulty sleeping.
Is your car more likely to be targeted by thieves?
Data shows when, where and how vehicles are targeted by thieves across the UK. We looked at the top opportunities that robbers exploit before breaking into a vehicle. Find out more below and see if your car could be at risk.
But criminals aren't just looking to steal your car to drive it away. Many offenders are looking to pinch parts or valuables, which ends up extremely expensive for the vehicle owner.
Vehicle thieves steal an average of £4,622 worth of goods
Our research reveals that the most popular item for thieves to steal from your vehicle is the exterior fittings. Valuables like handbags, jewellery and cash are also sought after by criminals, plus electrical equipment such as sat navs. But what's more surprising is that offenders are even stealing food and toiletries!
10 top tips to prevent car theft
Park your vehicle in your garage, or at least parked on your property
2. If you need to park away from home at night, go to a well-lit area
3. Check all windows are closed before leaving your vehicle
4. Install an anti-theft device to discourage thieves, like a wheel lock
5. If you have keyless entry, use a signal-blocking pouch
6. Get a GPS tracker so you can always monitor your vehicle
7. Keep all valuables and electrical equipment out of sight
8. Don't keep your keys in a visible place at home, like beside a window
9. Park with your wheels turned towards an obstacle to deter thieves
10. Always lock your doors, even when you're driving