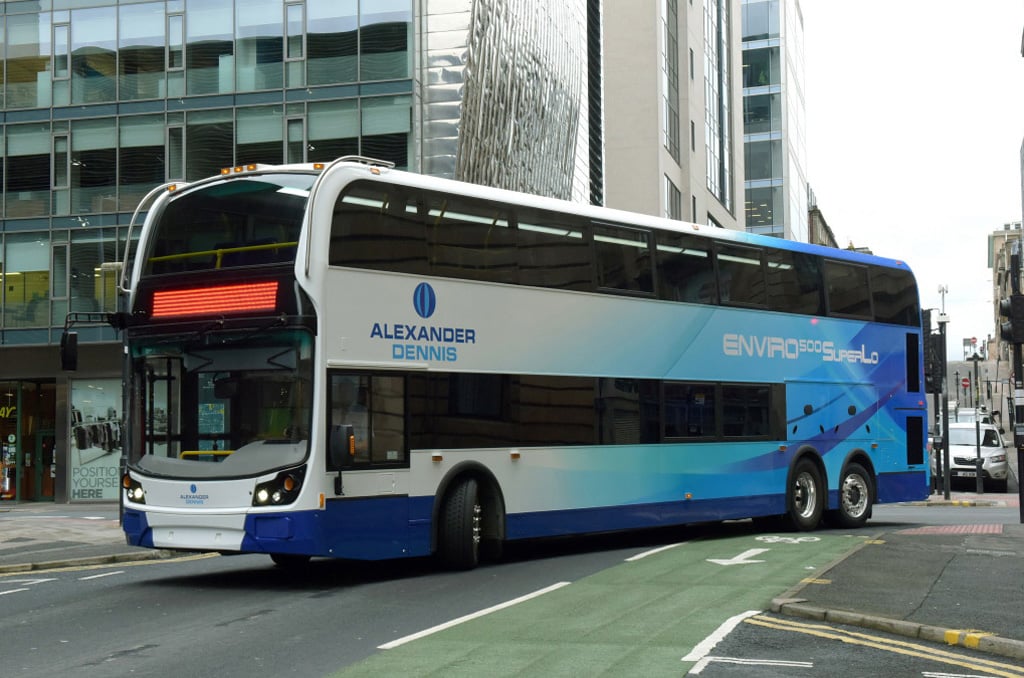 The framework contract from BVG is for a minimum of 70 buses, though up to 430 could be ordered to a value of £194m
Alexander Dennis Ltd (ADL) is to build a new fleet of tri-axle Enviro500 double-decker buses for Berlin operator Berliner Verkehrsbetriebe (BVG).
The manufacturer has been awarded a contract to supply 13.8m vehicles with three doors, two staircases and 80 seats. The first new buses are due to arrive in Berlin in 2020.
An initial delivery of two pre-series vehicles has been agreed. Assuming tests and trial operation is successful, a minimum order for 70 vehicles is expected.
BVG said that its current plans envisage a fleet of 200 Enviro500s on the streets of Berlin in the near term. The present decision of BVG's supervisory board allows the order of up to 430 buses from the framework contract, with a maximum investment volume of €220m (£194m).
An Enviro500 was trialled in service in Berlin in October 2015. ADL subsequently participated in BVG's multi-stage tender process, as a result of which the company has been chosen to supply the new double-decker fleet for Berlin.
BVG operates around 1,500 buses which last year alone provided 441 million passenger journeys. More than 400 double-deckers are used on BVG services in Berlin – the largest fleet of its kind in continental Europe.
Dr Sigrid Evelyn Nikutta, BVG Chair of the Management Board and Operations, said: "Yellow double-deckers are a well-known landmark of Berlin. This tradition will now continue with the buses built by ADL.
"Thanks to the flexible contract we will be able to adjust our purchase volume depending on how the electric bus market develops. It is part of our plan to electrify our bus fleet by 2030."
Colin Robertson, Chief Executive at ADL, said: "We are delighted that BVG, as a leading and innovative European transport operator, has chosen ADL as the sole supplier of Berlin's new double deck buses.
"Our state-of-the-art Enviro500 vehicles offer benefits for BVG, its drivers and its passengers, as ADL has already demonstrated with over 17,000 Enviro family double-deckers for customers around the world.
"This new partnership with BVG is a significant step forward in our European expansion strategy."