Salary sacrifice EV schemes may be the perfect answer for employers trying to entice reluctant workers back to the office following the Government's easing of Covid restrictions on so-called 'Freedom Day', Monday, July 19.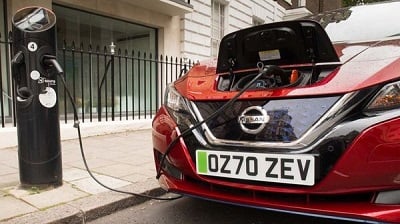 So says EV leasing and fleet management specialist, Fleet Evolution, which believes that higher transport costs and the continued risk of infection may make many employees reluctant to return to full-time office working.
As evidence, Fleet Evolution cites a recent study by online payslip provider, PayDashboard, which revealed that the financial impact of returning to work would negatively affect thousands of UK workers, many of whom had saved £100 per week on average by working from home.
And further research of 1,000 employees found that 40% of them said that if their employer did not make home-working available, they would look for another job due to the financial implications of returning to work full-time.
As a result, more employees have turned to buying used cars to source their own independent means of commuting, resulting in used car prices at near-record highs, as they look to avoid the perils of public transport.
However, this has duty of care implications for many businesses, as the so-called grey fleet vehicles involved are typically are older and more poorly maintained than traditional company-provided vehicles.
Andrew Leech, managing director at Fleet Evolution which was one of the early introducers of EV salary sacrifice schemes, said that one of the answers employers could consider was the introduction of a salary sacrifice scheme with an emphasis on electric vehicles.
A salary sacrifice car scheme offers employees a number of benefits. Typically, all maintenance, road tax, business insurance and breakdown cover costs are included within the monthly cost, which is deducted from the employee's gross salary. This creates savings in income tax and National Insurance Contributions which can be significant.
While Benefit-in-Kind tax is payable on the car provided, if employees select EVs with zero emissions they benefit from a tax rate of just 1% in the current tax year.
Employers, as a result, see monthly savings in NIC and VAT, as well providing employees with clean, fully maintained vehicles which helps manage their grey fleet risk.
"We are currently seeing that 97% of our forward orders through our salary sacrifice car schemes are battery electric or plug-in electric hybrids. Customers are realising the benefits of offering employees, who would not normally qualify under the company car scheme, access to low cost, low emission EVs.
"Our figures show that an electric car which travels 10,000 miles a year has transport costs of under £20 per month.
"And to show how cost effective EVs can be, a customer at automotive components manufacturer, Unipres, was able to travel 31,000 miles at just £320 per annum in electricity charges, which is a huge saving over conventional motoring costs," he said.
"For employees who may be feeling under financial pressure, and who also may not want to risk public transport when they return to work, a salary sacrifice electric car scheme could be the prefect answer," he added.