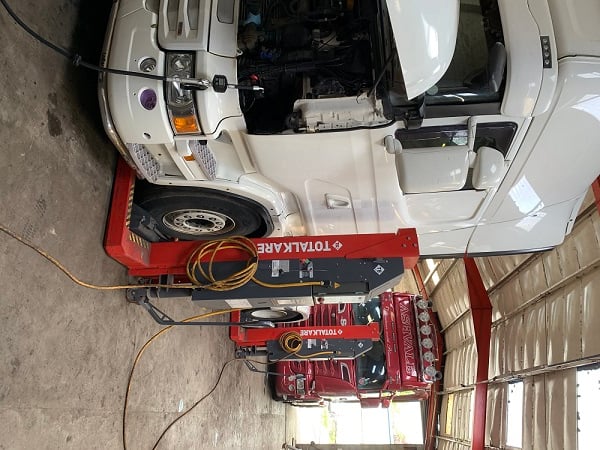 Middleton Car & Commercial has increased technician productivity by over 15 hours a week, among other profitable benefits since joining r2c Online's connected compliance and maintenance software platform.
The Manchester-based independent repairer adopted the r2c software back in 2018 and has since seen huge benefits including improved customer service levels and administration efficiency, releasing valuable technician resource and increasing business profitability.
Director Ben Goodchild explained what led the business to join r2c Online: "We needed better transparency of the work that was passing through the workshop. I wanted to keep track of what inspections we had done, and we wanted to provide better compliance management for our customers. Our old system left far too much room for human error and we felt that too much of the technicians' time was spent on administrative tasks."
Since deploying the online platform the workshop has accelerated productivity. Ben continued, "With r2c, everyone can see not only this week's workload, but months and years in advance. The system is also much smarter with quality checks throughout, so human error is massively reduced. This means we can plan work better and prepare parts in advance for a more productive workshop, and, internally, everyone is on the same page at all times."
Middleton Car & Commercial specialise in work for a range of asset types including car, van, HGV, PSV plus trailers and specialist waste vehicles. Ben explains how the r2c system helps cater for all of their work, "Our most-loved feature on the platform is the asset file; it provides one, easy to locate place for all of our vehicle and customer details.
"We can search by registration plate, customer name or vehicle type, and can see its VOR status and maintenance history. This speeds up work for technicians as they can instantly see any outstanding defects or additional information from previous inspections. As the data is now inputted directly onto the platform, with a digital sheet to suit each vehicle and work type, our paperwork and admin time is reduced and our technicians are saving at least 15 hours a week. This provides a very healthy addition to our bottom line."
The benefits are shared between the shop floor and in the office too, as Ben continues, "It's also great for us as we can check details from the online asset file instead of having to check through filing cabinets. If we need to check for an old inspection sheet, this is done in less than a minute now, whereas it would have previously taken much longer to manually sift through all of our old records."
As well as creating business efficiencies through r2c, Middleton Car & Commercial have also improved customer service levels, as all of their customers receive platform access for digital service sheet retrieval at any time. Ben concluded, "Customers instantly receive their documents when the job is complete and signed off, and communication is now so much easier. r2c Online has improved business for us and we would 100% recommend them to any workshop thinking of going digital."
Nick Walls, Managing Director at r2c Online, commented, "Since our inception in 2003, r2c's mission has been to bring more efficient collaboration between fleets and repairers. It's great to hear how Middleton Car & Commercial have used r2c to help their day-to-day workshop management as well as improving their management of maintenance and compliance for their customer base."