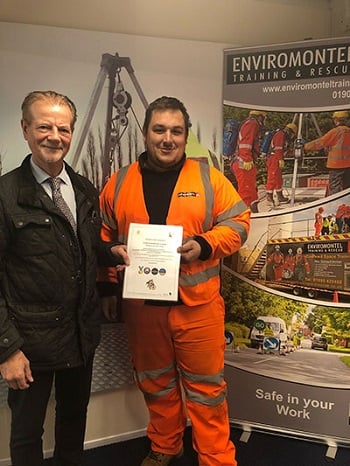 The Montel group of companies, comprising Montel Civil Engineering, Enviromontel, and Henwick Mill Groundworks, has recorded a dramatic 80% reduction in at-fault claims following the installation of Lightfoot in their fleet vehicles in early 2018.
By deploying Lightfoot in its vehicles, the Montel group of companies hoped to reduce fuel and claims costs, while improving corporate social responsibility through reductions in air pollution and harmful emissions.
John Kirkland, Managing Director of Montel Civil Engineering and Enviromontel, commented: "We weren't initially aware of the impact Lightfoot could have on our carbon footprint. Once we saw the numbers relating to emissions, that really got our attention and confirmed Lightfoot was well ahead of anything else we had seen."
Through its innovative in-cab driver feedback and accompanying driver rewards platform, Lightfoot has successfully lowered the environmental impact of the companies' vehicles by 10%, correlating with a 9.6% improvement in fuel economy. Particularly impressive, however, is the 80% reduction in at-fault claims recorded by broker Dunsby Associates.
Scott Batty, Head of Broking at Dunsby Associates, stated: "This has been a great result for all parties involved.  We know our customer takes risk seriously and promotes driver safety wherever possible.  Thanks to Lightfoot, their drivers are demonstrably safer and, as a result, the company has reduced their costs resulting from at-fault accidents."
Rupert Lyon Taylor, Managing Director of Lightfoot, noted the common ground between both businesses: "Lightfoot's mission is to reward better drivers – it's what sets us apart from anything else in the market. We don't believe in tracking drivers and using their data against them. Instead, we want to empower them and reward them for their exceptional performance. The Montel companies are right behind this ethos."
That commitment to rewarding better drivers has been of great benefit to Montel employees already.  Only recently, van driver Dan Davies won Lightfoot's Fleet Driver of the Week having exceeded the KPI for efficient driving measured by Lightfoot. In recognition of his good driving, Dan claimed the popular prize of a pie a week for a year.
Mr Kirkland added: "We are always on the lookout for ways to keep our employees safe and Lightfoot seemed a great way to not only protect our drivers, but reward them too."