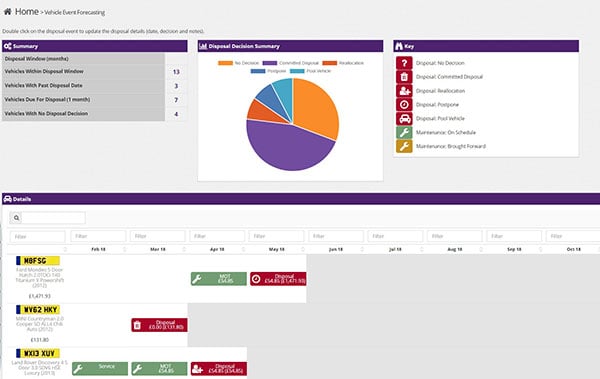 Intelligent integrated online dashboards delivering real-time critical headline data on vehicles and drivers to the fingertips of fleet managers and the ability to drill down into the minutiae of operations have been launched by Fleet Service Great Britain (Fleet Service GB).
Introduced under the fast-growing technology-led co-ownership company's umbrella brand, Achieve, fleet management and driver management dashboards join the previously launched maintenance management and crash management portals.
Developed in partnership with customers, the client-bespoke dashboards are designed to "inspire fleets to Achieve better" by delivering all critical information across all key operations in easy to understand numerical and graphic formats, while simultaneously highlighting action areas.
Drilling into the data beneath each dashboard's single screen headline summary enables fleet decision-makers to manipulate the data and compile customised reports as well as view consolidated information on any single vehicle and driver or group of vehicles and drivers.
Marcus Bray, head of sales at Fleet Service GB, which has more than 7,500 cars, vans, HGVs, trailers and drivers under management, said: "Fleet Service GB is harnessing technology to measure vehicle and driver data and performance in real-time.
"Through intelligent integrated solutions, fleet decision-makers are able to access ever single aspect of data on their fleet and drivers via a straightforward online dashboard to drive down operating costs and ensure maximum compliance."
The newly launched Achieve Fleet Management dashboard identifies all area of vehicle and driver-related administration in a single portal including vehicle acquisition and disposal, Vehicle Excise Duty, servicing and MoT information and motoring-related fines incurred by drivers.
The recently launched Achieve Driver Management dashboard identifies which employees have authority to drive, driver-influenced vehicle costs and a company's best and worst drivers using a number of key intelligent parameters including: points on driving licences and number and type of crashes.
Achieve Maintenance Management and Achieve Crash Management dashboards, both launched late last year, identify critical information that respectively includes: Vehicle pence per mile costs and vehicle servicing and maintenance data providing in-depth trend and predictive analysis and aiding compliance; and detailed information on types of crashes drivers are having, a heat map of incident locations and crash data by day, time and driver.
Mr Bray said: "Previously all information was available by reports, but Fleet Service GB's dashboards have transformed data access to provide customers with an unprecedented view of all key information in simple formats.
"Furthermore, many fleets have key vehicle and driver information recorded in separate silos. The Achieve dashboards integrate all information to give complete 360-degree visibility across all operational and performance areas relating to both vehicles and drivers giving one version of the truth.
"Crucially, the dashboards do not just provide data but also flag-up action areas. That means Fleet Service GB is not only providing vehicle and driver information, but interpreting it and so highlighting areas whether in respect of individual vehicle costs that need to be tackled or driver performance that needs to be improved."
What's more Fleet Service GB's in-house IT team has used members' skill and knowledge to design and build the technology in dialogue with customers.
Mr Bray said: "The totally integrated dashboards deliver the information that customers have requested in a format they want."
Stannah, the UK's leading independent supplier of lift products supplying goods as diverse as loading systems, service lifts, platform lifts, homelifts and stairlifts, outsources the maintenance management of its fleet of more than 700 company cars and vans to Fleet Service Fleet Service GB.
Martin Carter, group information systems director in charge of the fleet, who was instrumental in assisting with development of the dashboards, said: "We want to collect data so we can exactly identify what our costs are and can then effectively and efficiently manage the fleet and drivers.
"We also want a partner that understands what we are aiming to do and then get on and do it for us. In terms of developing and introducing the dashboards that is exactly what Fleet Service GB has done."
Vacant property management and maintenance specialists VPS UK, which is headquartered in Oldham with service centres across the UK, has almost 650 cars and commercial vehicles under management with Fleet Service GB and more than 900 drivers registered on the Achieve programme.
Head of fleet Steve Mulvaney, who also played a key role in development of the dashboards, said: "All headline data relating to every vehicle and driver is available in a straightforward visual style at my fingertips, Should I require more detailed information on any vehicle or driver or aspect of the fleet I can easily drill down.
"Crucially the fact that Fleet Service GB has developed and designed the dashboards in-house means that I can sit down with the IT team, discuss what I require and they then undertake the work. That means dashboard development is hugely efficient and totally in tune with the wishes of myself and other customers, who are effectively a user advice group."
Mr Bray concluded: "Dialogue with our customers is continuous and so we have a programme to introduce other dashboards and implement upgrades and enhancements to existing ones as and when required. Technology and data access is not the future; it is the here and now and Fleet Service GB is leading the way."