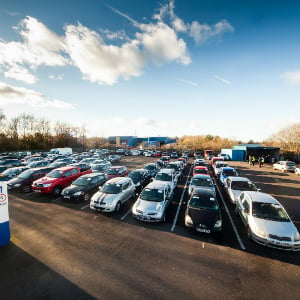 A Leeds-based, family run motor auction business has acquired a Lancashire firm as part of its expansion plans.
Independent Motor Auctions (IMA), in Leeds, has taken over West Coast Motor Auctions (WCMA) in Poulton-le-Fylde near Blackpool in a deal worth an undisclosed seven- figure sum to include the business and property.
The takeover will assist with IMA's expansion as the company not only branches into a new region but also into auctioning motorbikes as well as cars.
All 16 of WCMA's staff will be retained adding to IMA's current team of 22. In the coming year, the company plans to create a number of new jobs as part of its growth plans.
WCMA has a longstanding reputation spanning almost 30 years and IMA has acquired the family-owned business due to retirement. The business will be rebranded as Independent Motor Auctions Blackpool.
Earlier this year IMA invested a quarter of a million pounds in two new transporters to increase delivery capacities and to assist with its growth plans. The fleet itself is now made up of a nine-car artic transporter, a five-car rigid transporter and two six-car transporters. Thanks to the new acquisition, IMA now plans to increase its fleet further in the coming months with the order of two more seven-car transporters due early 2017.
The Lane family originally bought into Independent Motor Auctions in 2002, taking full ownership from March 2006 along with Martin Britton who joined the Lanes as sales director, and since then the company has experienced continued growth in a competitive marketplace with turnover now in the region of £20 million a year.
John Lane originally ran IMA alongside his son, Justin, and daughter, Melissa, and Martin Britton. This year, John retired from the business and Justin took over as managing director. Despite retiring John still has an active interest in the auction and is excited to be part of the expansion plans.
Justin himself returned to IMA earlier this year having spent several years working for a large company in the sector and has almost 30 years' industry experience. In addition, in 2013 Justin was chairman of the National Association of Motor Auctions, the industry body representing auction companies.
IMA is the only independent, family-run motor auction business in West Yorkshire and operates from Scotland down to Birmingham counting major names such as Vantage Motors, Jennings, SG Petch, Colin Appleyard, Richard Hardie, Derek Slack, Cars2, Burrows Motor Group, John Roe Toyota and many more as clients. This will now increase further thanks to the acquisition of WCMA.
Justin Lane said: "This is a really exciting acquisition both for IMA and WCMA as we have plans in place to develop both businesses in the coming months. We have a very similar company ethos to WCMA as we're family run and independent, both very rare attributes in the current sector marketplace.
"IMA continues to grow faster than the industry itself so it's very encouraging to be bucking the trend and preserving and creating jobs. Expansion into a new region is a development we've wanted to make for some time but the acquisition had to be right for both businesses and we feel that WCMA is ideal, not only because we now cover Yorkshire and Lancashire but because we're also expanding into motorcycles as well.
"We're very proud to be one of few auction businesses that is still independent and family-run, providing the best customer experience and offering a personal service in a very competitive and largely dominated marketplace."
IMA occupies three acres on Bruntcliffe Lane in Morley and employs a team of 22 with three auctions every week. In addition, IMA also offers online auction bidding to its trade customers through its LIVEBID software which has created four new jobs