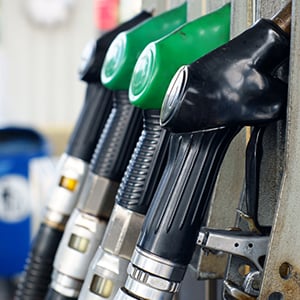 BAD NEWS about diesel car emissions and predicted financial penalties for driving them could be a rush to sell oil-burners.
And Essex leads the way in Britain as the area's drivers switch out of diesel cars more rapidly than everywhere else, according to data from the consumer car selling website Wizzle.co.uk.
Wizzle has detected a change in the number of people selling their diesel cars compared with those offering a petrol motor for sale and found:
Essex motorists are currently the most likely in Britain to be selling their diesel, rather than a petrol car.
Selling times for diesel doubled in early 2017, while barely changing for petrol.
Diesel car sale prices fell dramatically at the start of 2017, compared with petrol cars.
Other leading hotspots for offloading diesel are the London boroughs, Manchester, Birmingham and towns along the south coast of Britain.
The rush to sell diesel began at the start of this year – at the same time as an explosion of negative headlines about new diesel car emissions scandals and planned regulations to discourage diesel from many urban areas.
Almost overnight diesel began to take longer to sell, as Wizzle boss Sébastien Duval explains:
"From the moment we launched last summer we saw a very consistent pattern of average selling times for petrol and diesel cars.
"Petrol cars took between three and four days after listing to sell and diesel would typically go in just over six days.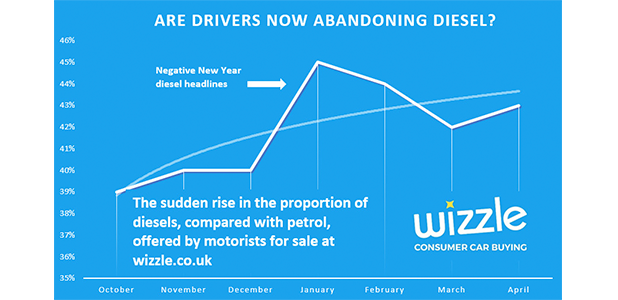 "Suddenly in January, we saw diesel taking more than twice as long as normal to sell, while petrol cars carried selling on as usual."
At the same time diesel car prices switched from being predictably higher than their petrol counterparts to a much more volatile pattern. And while selling times have settled down to around six days again, prices keep dipping up and down much more unpredictable than for petrol cars.
Sébastien Duval said: "We benchmark transaction prices against the independent car valuation experts CAP-HPI and the old relationship between petrol and diesel values in the used market seem to have disappeared.
"Last year diesel values were consistently higher than equivalent petrol models but this year they are jumping above and below petrol car values from week to week, with no clear pattern or trend.
"We think this is because dealers are now more cautious about holding diesel in stock and prefer to cherry-pick just the cars they already have a customer for."
But the increase in motorists trying to sell diesel rather than petrol cars does look set to continue as a trend.
Sébastien Duval said: "The pattern we are seeing suggests that motorists in areas which are likely to be affected by things like future penalties for using or parking a diesel car are hedging their bets by selling now.
"That's why it's in mostly urban areas – especially in and around London and other major cities – where the number of diesel offered for sale has increased compared with petrol cars.
"We don't think the bottom has fallen out of the diesel market but it does seem that when it comes to buying cars for stock dealers are definitely exercising more caution than last year."