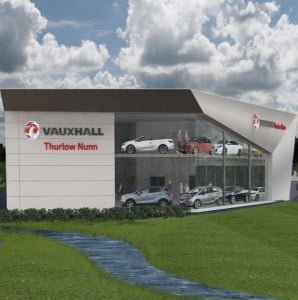 SITE: New £5.5million dealership
Vauxhall and dealer group Thurlow Nunn are to open a new £5.5million, 2,296sq/m Brand Centre in Milton Keynes next year.
The site, on Towergate, Groveway, will include a showroom displaying 13 vehicles, high-tech MOT and workshop facilities and a large used car selection.
There will also be extensive customer parking facilities for up to 152 vehicles.
Conceived by architects Bisset Adams, the two-storey-high steel and metal structure will help create 45 local jobs.
The site will feature Vauxhall's new premium Delta architecture, incorporating the latest corporate image (CI), furniture, signage and space requirements.
Vauxhall are currently rolling out a new CI program across their network of 428 UK car dealerships.
Chris Roberts, Retail Network Development Director at Vauxhall, said: "The new Thurlow Nunn Vauxhall dealership will offer our customers in the Milton Keynes area a contemporary showroom space where they can view the current exciting Vauxhall range, as well as state-of-the-art workshop facilities for MOTs and servicing.
"It's also great news for the local economy."
The development includes numerous sustainability features, such as high-efficiency gas-fired heating, heat recovery ventilation technology and charging points for electric vehicles.
Simon Bottomley, Chairman and Group Managing Director of Thurlow Nunn, added: "The new Milton Keynes site will be Thurlow Nunn's largest yet and the group's first venture outside East Anglia.
"We are a family-owned business with ten Vauxhall dealerships and are very much looking forward to opening our new site in Buckinghamshire."
The Thurlow Nunn Group was established in 1875 and has representation throughout Norfolk, Suffolk and Cambridgeshire.