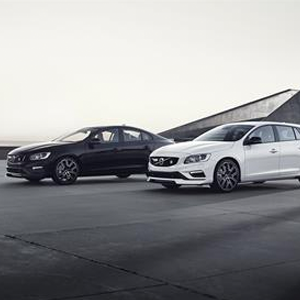 Polestar, the performance brand of Volvo Cars, has unveiled the Model Year 2018 Volvo S60 and V60 Polestar, complete with additional aerodynamic components made from lightweight carbon fibre material that increase downforce by 30% for improved performance and handling.
A limited number of 1,500 vehicles will be produced, with all cars receiving a unique number on the tread plate.
The new aerodynamic exterior package has been developed jointly by the engineers of Polestar and Cyan Racing, the motorsport partner of Polestar, with data and learnings derived from the World Touring Car Championship (WTCC) programme where the team is involved in the title fight.
The aerodynamic enhancements include a new front splitter, side sills and a rear spoiler extension, all made in lightweight carbon fibre, increasing the downforce by 30 per cent. The new components increase grip and high-speed stability, providing a car with the duality of being at ease in everyday driving as well as providing the driver with further control and feedback on an inspiring stretch of road or during an evasive manoeuvre for example.
Many of these components were developed and tested during Polestar Cyan Racing's recently-revealed secret Nürburgring test where a Polestar S60 claimed the record for the fastest four-door road legal car around the infamous Nordschleife circuit.
Other visual changes include high-gloss black Polestar diamond cut wheels, carbon fibre door mirror casings and a new colour; Bursting Blue Metallic. The interior has been updated with a new seat upholstery, blue contrast stitching and Polestar embroidering.
More than 250 components have been changed compared to the 'standard' Volvo model to create a car with all the usability and practicality of the Volvo S60 and V60, but also delivering all-year round sports car performance. Key component changes include the adjustable Öhlins shock absorber system and six-piston Brembo brake callipers with 371 millimetre discs.
The S60 and V60 Polestar retains the award-winning 367-hp Drive-E engine, one of the most powerful four-cylinder production engines in the world, with fuel consumption and emissions at a class-leading level of 7,8 l/100 km and 179 CO2g/km.
"The Model Year 18 S60 and V60 Polestar models are the pinnacle of our road car programmes that we have been developing successfully since our first road car was launched in 2013," said Jörgen Ronstad, Vice President, Product Strategy & Management at Polestar.
"The aerodynamic enhancements, combined with other small but important changes, further enhances our base philosophy of a performance car for all roads and conditions, transferring technology and learnings from track to road."
Technical Overview
Performance
Volvo S60 Polestar
0-100 km/h 4.7 sec
0-200 km/h 17.2 sec
0-60 mph 4.4 sec
0-120 mph 15.6 sec
Top speed 250 km/h*/155 mph*
Volvo V60 Polestar
0-100 km/h 4.8 sec
0-200 km/h 17.4 sec
0-60 mph 4.5 sec
0-120 mph 15.8 sec
Top speed 250 km/h*/155 mph*
* = Electronically limited
Chassis
Adjustable Polestar Öhlins shock absorbers
Front strut brace with carbon fibre enforcement
Stiffer top mount front and rear
Stiffer tie blade bushing
Polestar optimised steering
80% stiffer springs compared to S/V60 T6 R-Design
Front: 60 N/mm
Rear: 67 N/mm (S60)
72 N/mm (V60)
Tyres and rims
Michelin Pilot Super Sport 245/35 ZR20 (95Y) XL with cavity damping
Black Polestar bespoke rims, 20×8"
Engine
4-cylinder inline engine with turbo and supercharger
1969 cc
270 kW (367 hp DIN / 362 hp SAE) @ 6000 rpm
470 Nm (347 lb-ft) @ 3100-5100 rpm
Max 7000 rpm
Max boost 2.0 bar
Polestar 3.0" stainless full-flow active exhaust system with twin 3.5" tail pipes
Higher capacity turbo
Strengthened conrods
Strengthened camshaft
Higher capacity fuel pump
Higher capacity air filter
Higher capacity air intake
Transmission
BorgWarner four-wheel drive
Polestar calibration for more rear torque dynamic distribution
Polestar calibrated stability control system
8-speed Geartronic automatic gearbox with paddle shifters
Faster gearshifts
Curve-hold functionality
Off-throttle functionality
Optimised shift precision
Brakes
Front: Polestar/Brembo 6 piston brake calipers
371×32 mm ventilated and floating Brembo discs
Rear: 302×22 mm ventilated discs
New brake pads for model year 2018
Curb weight
1753 kg / 3865 lb (S60)
1800 kg / 3968 lb (V60)
Features
Launch control
Sport+ mode
Aerodynamics
Polestar carbon fibre front splitter
Polestar carbon fibre side sills
Polestar carbon fibre spoiler extension (S60)
Polestar front splitter corners
Polestar rear spoiler
Polestar diffuser
Interior and exterior
Sport seats with charcoal, nubuk, blue thread and Polestar imprint
Steering wheel with blue thread and leather/nubuk
Carbon fibre centre stack
Nubuk inlay in doors
Nubuk centre armrest
Polestar gearshift knob
Polestar carpets with blue thread
Polestar sport pedals and footrest
Polestar door sills with numbering
Colours
Bursting Blue Premium Metallic
Cyan Racing Blue
Onyx Black Metallic
Bright Silver Metallic
Ice White Solid
Equipment
Sunroof and colour only options, all others included in base specification
Fuel tank
67,5 litres
Fuel consumption (combined)
7,8 l/100 km (S60)
8,1 l/100 km (V60)
CO2 emission
179 g/km (S60)
186 g/km (V60)
Environmental Classification
Euro 6b