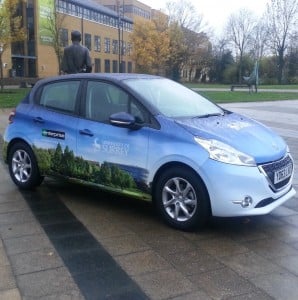 BETTER: Enterprise devise new policy
The University of Surrey are overhauling their staff transport policy and adopting an on-site car sharing programme by Enterprise Rent-A-Car.
In a move away from pure grey fleet, the University's policy – 'Travel Is Moving On' – covers all elements of employee travel, including taxis, flights and grey fleet mileage.
Two car-sharing campus-based vehicles have been introduced by Enterprise, so University staff can use them instead of their own vehicles for shorter trips.
The cars are available to all 2,300 University employees and are booked online through Enterprise's B2B Booking Tool via Surrey's intranet site.
Abigail James, Category Manager at the University of Surrey, said: "A lot of our staff have historically chosen to drive their own cars for business and claim back mileage reimbursement.
"This is very costly and also involves a great deal of risk, because we are legally liable for the condition of those cars even though we have no control over them.
"Given that many of our business trips are to local meetings in and around Guildford, Enterprise's car sharing programme is a far better alternative.
"Our employees now have access to new, well-maintained, low-emission rental vehicles, based on-site, whenever they need a car.
"While for longer trips, they can use public transport or rent a car from Enterprise by the day.
"We'll also get a wealth of management data from Enterprise on how the shared cars are being used, which we can use to refine our policy and ensure it remains as cost-effective and sustainable as possible."
Adrian Bewley, Director of Business Rental for UK and Ireland at Enterprise Rent-A-Car, added: "The dependence on grey fleet is widespread through the higher education sector as universities tend not to provide company cars to their staff.
"But there are a lot of costs and risks involved, not to mention that employees' own cars tend to be older and not as well maintained, and thus have higher CO2 emissions.
"The University of Surrey has overhauled its transport policy to meet these challenges head-on and offer cheaper, more sustainable solutions to all areas of business travel.
"This is something more universities should be looking at, because I suspect many of them are spending more money and taking more risks than they should."