The UK new car market experienced a significant decline in April, following exceptional growth in the previous month as buyers brought forward purchases ahead of the switch to new VED rates, which came into force on 1 April 2017. Figures published today by the Society of Motor Manufacturers and Traders (SMMT) show that 152,076 new cars were registered in April, a -19.8% decline.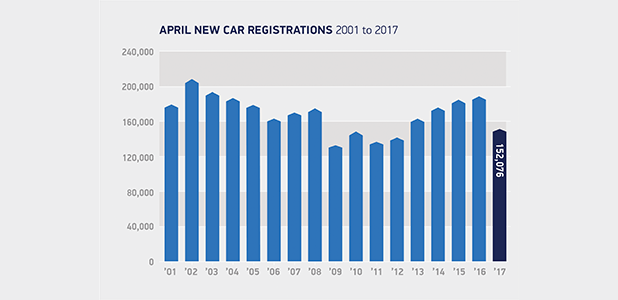 Demand was down across the board, with registrations by private buyers, businesses and large fleets falling -28.4%, -21.0% and -12.3% respectively. Petrol, diesel and alternatively fuelled vehicle registrations also declined, with AFV demand down for the first time in 47 months, albeit by a marginal -1.3%.
Despite the substantial falls in the month, the overall new car market remains strong in the year to date, with new registrations in the first four months up 1.1% year-on-year to 972,092 – the highest level on record.
Mike Hawes, SMMT Chief Executive, said, "With the rush to register new cars and avoid VED tax rises before the end of March, as well as fewer selling days due to the later Easter, April was always going to be much slower. It's important to note that the market remains at record levels as customers still see many benefits in purchasing a new car. We therefore expect demand to stabilise over the year as the turbulence created by these tax changes decreases."