Samsara is excited to announce the Eco-Driving Report which can help you surface inefficient driving habits, incentivise good behaviour, and facilitate effective feedback. Its central feature is the Eco-Driving score, which aggregates a number for your fleet based on seven different criteria:
Idling:Time spent with the vehicle on and not moving for more than two minutes, excluding times where PTO or auxiliary inputs are engaged.
Over speed:Time spent over the efficient speed threshold.
Cruise control:Time spent with cruise control on and the accelerator disengaged.
Coasting:Time spent without engaging the accelerator.
High torque:Time spent with engine torque greater than 90%.
Anticipation events:Number of braking events where the time from accelerator to brake is less than one second.
Green band:Time spent in the most efficient RPM band.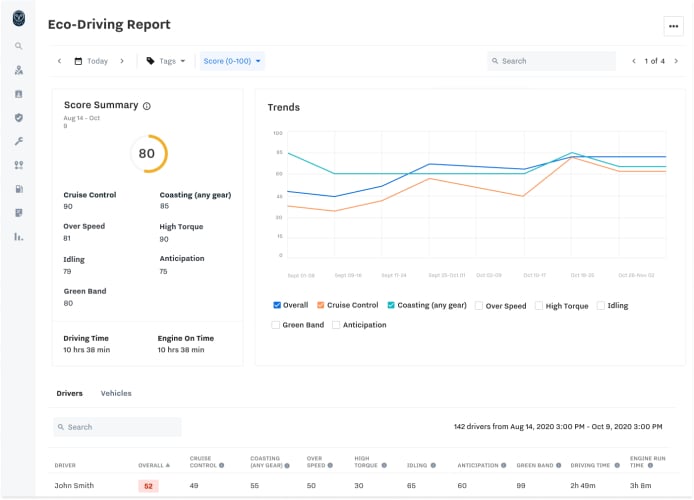 By carefully tracking this information, the Samsara Eco-Driving Report can help you establish goals for your fleet and help your drivers understand efficiency best practices.  This report also enables you to coach drivers on efficient driving behaviour. By helping them understand exactly what goes into a score, they can see how they are being evaluated along with ways to improve.
The Samsara Eco-Driving Report can help you understand the impact of your coaching, as well. The report's efficiency trends graph plots how each driving behaviour changes over time, so that you can easily visualize how coaching efforts or programmatic changes impact your fleet's efficiency. You can also customise the weighted score to reflect the metrics that matter most to your fleet. For example, if your routes are primarily along windy roads—where coasting can be worse for vehicles—you can simply give that category less weight or remove it from the score altogether.
Understanding these data insights helped Samsara customer and transportation operator A.W. Jenkinson reduce costs and emissions. "Samsara's Eco-Driving features support us to coach and train our drivers on the importance of fuel efficiency which allows us to save on fuel costs for our business" said Daniel Coleman, Fleet Support and Transport Manager, A.W. Jenkinson.
To learn more about how Samsara can help your fleet understand, measure and improve efficiency, while also supporting sustainability initiatives, check out our complete guide to improving fleet efficiency or reach out for a free trial today.