A charity in the north of Scotland is now delivering donated furniture and other items to families and individuals in need, aboard its third 7.5-tonne FUSO Canter.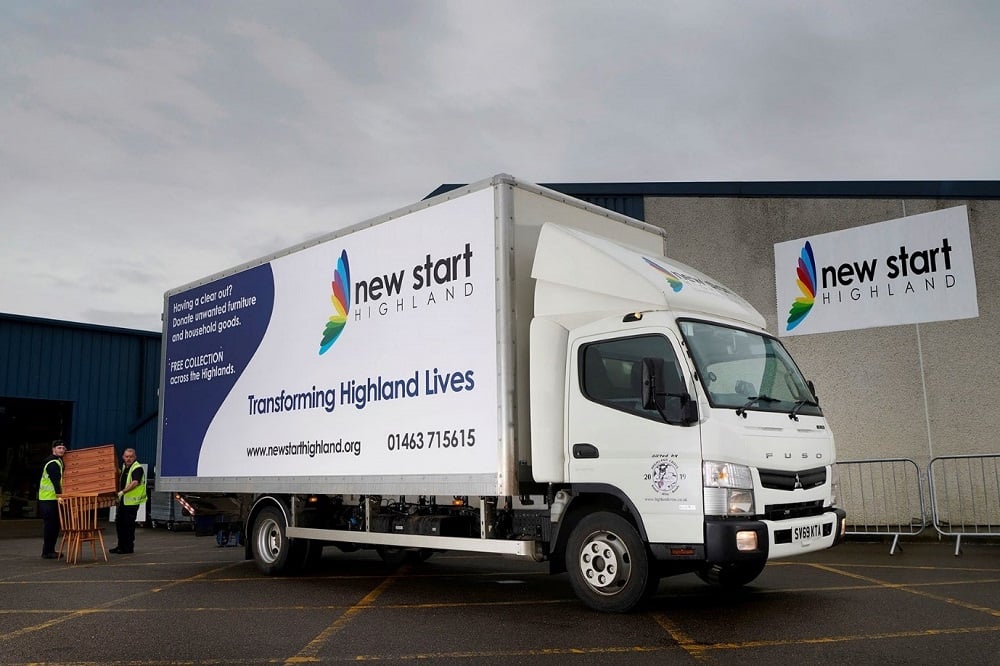 New Start Highland works to create social and environmental improvements within local communities, helping people to live free from hardship and crisis by supporting them, providing training opportunities, and promoting re-use.
It runs six retail outlets in Inverness, Wick, Thurso and Dingwall, which supply everything needed to kit out a home, from quality second-hand furniture, electrical and white goods, to clothes, books and toys. All profits from shop sales are invested directly to support charitable services.
Supplied by Dealer BLS Truck & Van, which also represents Mercedes-Benz from its base in Aberdeen, the new Canter was paid for by the fund-raising efforts of competitors in the annual Highland Cross duathlon.
The range-topping 7C18 model is powered by a 3.0-litre common-rail turbodiesel which produces 129 kW (175 hp) and up to 430 Nm of torque across a broad engine speed range. A fully automated, dual-clutch DUONIC transmission contributes to its impressive fuel-efficiency, while an engine brake is also fitted as standard. The Canter's box body, meanwhile, is by Truckcraft Bodies, of Stalybridge, Cheshire.
New Start Highland's latest 7.5-tonne Canter is now working alongside its first, which has provided outstanding service for the last six years, and a three-year-old model. It also uses these trucks to undertake commercial removals, which generate valuable income that helps to fund charitable activities.
Removals & Transport Manager Jonathan Nichols declared: "The FUSO Canter represents great value for money, and offers the best body and payload allowance of any 7.5-tonner on the market. Ours will accept a full four tonnes, which is exceptional. In truth, volume rather than weight tends to be the issue for us, but it's nice to know this very high carrying capacity is available to us when we need it."
He continued: "We've been very happy with the Canter's build quality and reliability, while its relatively small footprint and tight turning circle are also advantages. These trucks will squeeze up narrow lanes and farm tracks that other vehicles in the same gross weight category would struggle to negotiate, while our drivers appreciate the fact that they are so easy to manoeuvre in the residential areas where we make most of our collections and deliveries."
New Start Highland was established in 2000 by Chief Executive James Dunbar, with a single employee. Today, it has a workforce of 70, while boasting a multi-million pound turnover. Both Mr Dunbar, and the organisation he founded have won a series of business awards – he received an OBE in the 2016 New Year's Honours for services to the development of the economy and the community in the Highlands & Islands.
Jonathan Nichols added: "It was great working with BLS Truck Sales Executive Chris Dyer and his colleagues on the acquisition of our latest Canter. The Dealer put together a very attractive package that reflected the nature of our business, and has been very supportive."