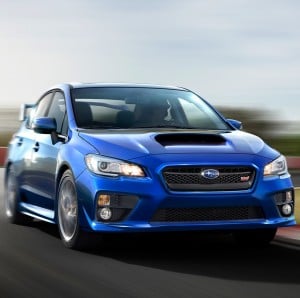 RETURN: Subaru WRX STI
Subaru's new WRX STI will hit the UK in May, despite the manufacturer claiming the outgoing version would be the last.
Priced at £28,995 – £4,000 cheaper than its predecessor – the iconic model enjoys improvements to driveability, safety and packaging.
Powered by a 305hp 2.5litre turbo-charged Subaru Boxer four-pot engine, it is based on the MRX saloon launched in November, but adds 'significant enhancements'.
The vehicle boasts Subaru's trademark Symmetrical All-Wheel Drive, which employs the latest vehicle dynamics control (VDC) and Active Torque Vectoring.
Spring and damper rates have been re-tuned, while the electronic power steering is now mounted on a more rigid steering gearbox mount.
It also enjoys an increase in wheelbase of 25mm, with boot space and door apertures also enlarged.
Exterior standard specification includes 18inch alloy wheels, LED lighting and 'STI' badges.
Paul Tunnicliffe, Managing Director of Subaru UK, said: "We wanted to acknowledge the following the WRX STI has, and while both the market and the Brand in the UK has changed in recent years, the WRX STI remains a demonstration of Subaru's technical know-how.
"The new model will only be available in limited numbers when it goes on sale in summer nevertheless we were keen to give our performance car fans the opportunity to try it here for themselves."
Further details regarding the WRX STI will be released over the next couple of weeks.