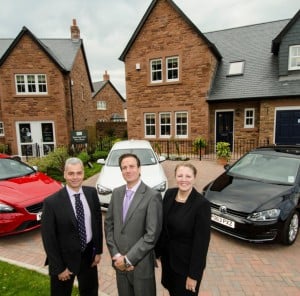 SCHEME: Story Homes team with Lex Autolease
Cumbrian-based housebuilder Story Homes are launching a new company car scheme run by Lex Autolease.
The new lease scheme, which is designed to enhance Story Homes' reward and benefits package, offers eligible employees a choice of hatchback, saloon and executive class vehicles.
These are provided with fully comprehensive insurance and a service and maintenance package.
Around half of the company's employees will be eligible to participate and can choose from a selection of vehicles aligned to their grade.
These include the BMW 1 Series Efficient Dynamics for entry positions, Mercedes C-Class and Audi A5 for middle management and the Mercedes E-Class and Range Rover Evoque for executive positions.
Steve Errington, Managing Director of Story Homes, said: "As a fast growing business we want to attract and retain the best talent in the market and one way to achieve this is by enhancing the range of benefits we offer.
"A company car scheme can act as an excellent motivation and reward tool for both current and prospective employees.
"We are confident this scheme will prove to be a popular addition to our employee benefits package."
Rory Whaling, Business Development Manager at Lex Autolease, added: "We worked closely with the management and HR team at Story Homes to design a flexible car scheme that will grow as the business grows.
"This scheme will give them a competitive advantage in the recruitment market and help them attract the best talent to support their growth plans."