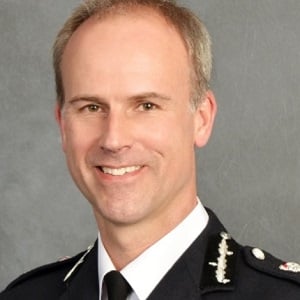 The country's leading roads policing officer has once again expressed his support for punishing drivers caught speeding by even 1mph, with speed enforcement guidelines currently under review.
In February, chief constable Anthony Bangham, the National Police Chiefs' Council's (NPCC) roads policing lead, faced controversy after suggesting that drivers travelling at just 1mph over the speed limit should be prosecuted.
According to the Mail on Sunday (MoS), Mr Bangham has reiterated that support – saying the existing leeway gives out the wrong signal and could be contributing to increasing injuries on the roads.
In a new report seen by the MoS, Mr Bangham says that the guidance leads drivers to think 'it is OK to speed'. He warns colleagues: "We need to change our messaging and ensure greater consistency of approach when dealing with those who exceed the speed limit."
In the paper on roads policing, presented to the NPCC in April, Mr Bangham explained how fatalities increased by 4% in 2016 after years of decline, and admitted the police approach 'appears to be failing'.
He noted that there is widespread public support for action against drink-drivers, those who use mobile phones at the wheel and those who do not wear seatbelts – but crackdowns on speeders are 'actively resisted' despite the fact that speeding was a factor in 15% of fatal crashes in 2015.
Under current policing guidelines, typically motorists are not stopped if they are driving at up to 10% over the limit – and they are often given an extra 2mph allowance on top of that.
This means that a motorist could go up to 34 mph without facing punishment in a built-up area, and as fast as 78 mph on a motorway.
According to the MoS, an official review is now underway into the 'buffer zone'.
The MoS says road safety charity Brake is 'fully supportive' of Mr Bangham's approach, noting: "The existing speed enforcement guidance, the 10% plus two rule, gives drivers the impression that travelling above the speed limit is acceptable – it is not."
However, a NPCC spokesman told the Mirror that while current speed enforcement guidelines are being reviewed, there is no proposal for drivers to be prosecuted for driving 1mph over the speed limit.
The spokesman said: "Officers have a range of options available to them when drivers are speeding and respond in a proportionate way based on the circumstances in each case.
"Current speed enforcement guidelines for police set in 2011 are being reviewed looking at available evidence. The findings of the review will be considered by all chief constables before any action is taken.
"There is no proposal for drivers to be prosecuted for driving one mile per hour over the speed limit – that would be neither proportionate or achievable."