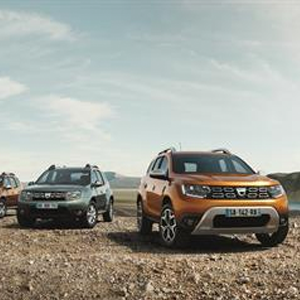 Having sold over two million units since launch, Duster, a vehicle with an international calling, has become one of Groupe Renault's top-selling models. Dacia's SUV has made its mark in its segment.
In seven years, it has won over customers looking for a versatile, reliable and affordable vehicle. Duster's powers of attraction are practically limitless. Its highly attractive price, top-level off-road abilities, robustness and design leave no-one indifferent. Read on to find out more about a revolutionary model that has carved out a special place in the wide world of SUVs.
Dacia Duster: a scandalously affordable SUV
Marketing an SUV at the price of a city car was a bold move. When Dacia made that move in 2010, it hit on a major success. The theme of affordability was the focus of the Duster ad, in which a somewhat caricatural couple ask about the price of Duster after test driving it. When told that prices start at €11,900, the customer is offended: "You don't think we're going to spend so little?" The Dacia Duster phenomenon was born. The model sold in over 450,000 units in three years. Building on that success, the brand launched a restyled Duster in 2013 that met with the same enthusiasm, the car's now enviable popularity being expressed from 2016 on in the advertising slogan, "Another one drives a Duster".
Duster's price was clearly important at a time of economic crisis, but the car's success cannot be reduced to its attractive price alone. The model's intrinsic all-terrain qualities have also contributed largely to its success. The car's design leaves no room for doubt as to its SUV nature. Without being over the top, the styling is that of a true 4WD model. The front end exudes a sense of robustness. The wide, curvaceous wings, double light units and protective bumper clearly express the car's SUV DNA. The raised ground clearance, large wheels (16″) and multiple protective features invite drivers to venture out on the toughest roads and tracks.
The interior is equally outstanding, with a modern, functional and modular cabin. And the impertinence of Dacia's SUV does not stop there, as it features C-segment equipment at B-segment prices.
Dacia shakes up established cues once again
With the launch of Duster, Dacia confirmed its boldness, first seen six years earlier with the release of Logan. The Dacia brand became a benchmark in new approaches to automotive consumption. It shook up established cues once again with the launch of Duster, a true, roomy and versatile SUV for the price of a compact car.
As with all Dacia models, Duster targets customers looking to buy a fairly-priced car, an affordable vehicle with the equipment responding to their needs. In addition to its affordability, the brand moved into a new territory: the SUV market. This served to win over new customers looking for a car with real all-terrain abilities. These new customers include first-time buyers and those who would otherwise have bought a used car. With a new market and new customer base, the Dacia brand is perpetuating its success and even bringing together its own community. The Dacia community organises picnics that every year draw thousands of people in many of the brand's countries. Dacia customers are true fans, highly active in the social networks. More than simple customers, they are the brand's best ambassadors.