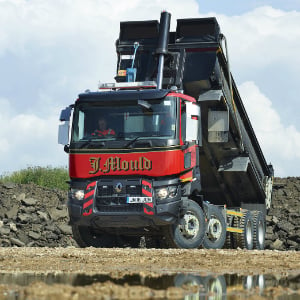 The Range Cs are additional vehicles for J Mould's 30+ strong fleet, delivering crushed concrete, aggregate and topsoil to and from building sites within a 25 mile radius of the company's Reading-base.
This is the first time in 15 years that J Mould has turned to a new vehicle manufacturer and it was the Range C that had the edge as General Manager, Jay Mould, explains: "The time was right for our business to see what other vehicles were on the market. We trialled the Range C against some of its leading competitors and, for us, it performed head and shoulders above them. The Range C ticked all the boxes; it's a solid, robust lorry which is also really nice to drive and the extra payload it's delivering is an added bonus. It's a fantastic all-rounder that we can use off-site, in the tips and on multi-purpose jobs."
Jay Mould continues, "We are thrilled with our new choice of vehicle and believe the Range Cs will make a very effective contribution to our business. In fact we have been so pleased we already have another two on order."
Supplied by Renault Trucks South, the two 32-tonne Range C440 8x4s, in J Mould's distinctive red and black livery, are fitted with Abba Predator tipping bodies.
As Jay Mould explains: "So far, the service we have received from Renault Trucks South has been exemplary. The handover of the trucks in particular was extremely impressive – Renault Trucks' Rob Coxon took the time to make sure that the drivers knew what all the controls were for."
Rob Coxon, Renault Trucks South comments on the deal: "I'm delighted to have persuaded Jay and the team to try something new and that they have been so convinced by Renault Trucks. We understand that J Mould needs a robust vehicle that is up to the challenges presented in the construction industry. The Range C has been developed to provide excellent drivability in all types of terrain and it's great to hear that they have been so impressed.