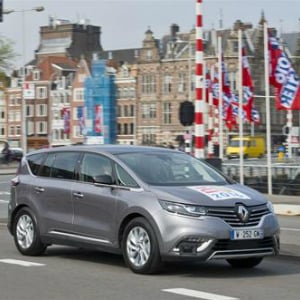 Renault today participated in a unique opportunity to showcase emerging autonomous drive technologies to a select group of European policy makers. The European Union's 28 Transport Ministers gathered in Amsterdam to sign the Amsterdam Declaration in favour of autonomous vehicles.
As part of its leading role in the New Face of Industry in France programme, and in association with its partners, legislative bodies and other manufacturers, Renault is playing an active part in helping to shape existing road traffic legislation in order to promote the safe use of autonomous vehicles, as well as the competitiveness of European vehicle makers in this new technology area.
Rémi Bastien, Head of Prospective Autonomous Driving, Renault-Nissan Alliance said: "Today marks a new chapter in the potential for autonomous driving vehicles on the road. Renault is pleased to be working closely with industry partners, competitors and legislators to help ensure a safe and stressless future on the road."
Renault Reveals Autonomous Drive Demonstrators
Renault revealed three 'Renault Espace Autonomous Drive demonstrators' which have already been trialled for several hundred hours in ordinary traffic across Europe. These new examples of what's possible help illustrate Renault's vision, which was showcased on the Next Two prototype in 2014.
Autonomous driving for all
Renault is committed to introducing autonomous driving vehicles by 2020, with the ambition to become the first to offer 'eyes-off/hands-off' technology on mainstream vehicles at an affordable price. This technology has a goal of making the road safer, more enjoyable and maximising time for drivers while driving.
For more than 50 years, Renault has worked actively to improve road safety. More than 90 percent of accidents can be explained by human error and Renault's Advanced Drivers Assistance systems aim to reduce the number of accidents by assisting motorists. The progress made by Renault in this field has seen the number of serious or fatal accidents involving its cars in France come down by 80 percent over a period of 15 years. Autonomous driving is an extension of this ongoing commitment to continue to extend efforts on safety.
By delegating driving during the most tedious phases of journeys, such as when traveling on motorways or in congested traffic, autonomous systems make motoring less stressful and more enjoyable without detracting from the pleasure of driving, while giving drivers the ultimate choice.
Beyond 2020, drivers will gradually be able optimise their time in order to take advantage of in-car connectivity in total safety when conditions permit and in total compliance with legislation.