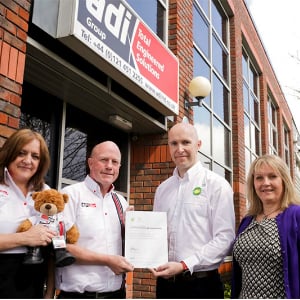 For many fleet owners, being a good corporate citizen has become an integral part of their offer.
Most fleets now understand how to reduce their carbon footprint through measures like keeping tyres at optimum inflation, encouraging drivers to adopt a smooth driving style, shedding unnecessary weight in the car and using environmentally responsible fuel providers.
While there are many steps your drivers can take to improve fuel economy, the burden of reducing carbon emissions lies solely with the vehicle itself, which is why it's important to consider a number of factors during the vehicle selection process – from engine size to emissions, which determine fuel consumption and benefit-in-kind tax, respectively.
But ultimately, even taking these steps into effect, all fleets need fuel. So we decided to offer them a new way of making a tangible reduction to their environmental impact, by giving them the opportunity to offset carbon emissions through the BP Plus Fuel Card.
Engineering company adi Group was the first to sign up to this scheme in April. Now, every time one of adi Group's fleets refuels at a BP service station and pays using the BP Fuel Card, the carbon emissions associated with the fuel purchase will be calculated and offset.
This means the adi Group's fleet is now driving carbon neutral, with nearly 1,200 tonnes of carbon equivalent emissions over the course of a year anticipated to be offset by BP.
Calculating the carbon emissions from the purchase of fuels and offsetting the equivalent amount of carbon is done in partnership with BP's carbon reduction and offsetting programme, BP Target Neutral.
Thanks to its portfolio of highest quality carbon reduction projects around the world (all independently audited and verified), BP Target Neutral helps firms like adi achieve their carbon reduction goals. Not only that, but the projects provide socio-economic benefits and help improve livelihoods in communities across the globe.
Alan Lusty, who runs adi Group, described the tie up with BP Target Neutral as, "a solution which mitigates against our carbon footprint without impacting our operations."
Crucially, the programme is designed to flex in line with a firm's expansion, as the fuel usage is monitored every month. If fuel usage increases, the offset will increase too. Companies don't have to offset all of their usage either as offsetting can be any percentage of fuel consumption.
Reducing fleet emissions without significantly impacting operations is a constant challenge for businesses. Our new fuel card offer in collaboration with BP Target Neutral overcomes this challenge by enabling customers to continue their operations while ensuring the environmental impact from driving is fully mitigated.
We have worked in collaboration with Target Neutral on an offer that tackles the increasing pressures around carbon reduction and corporate social responsibility to offset as well as adding significant value to customers. BP Plus Fuel Card customers, like adi Group, can now take advantage of an immediate and cost effective solution of offsetting part of, or its entire fleet's, emissions.
Firms like adi are able to show their customers exactly how they are fulfilling their obligations as a good corporate citizen, as the integrated fuel card offer both reports their CO2 emissions and gives details on the project the offsetting is supporting. It's a real win-win for business.