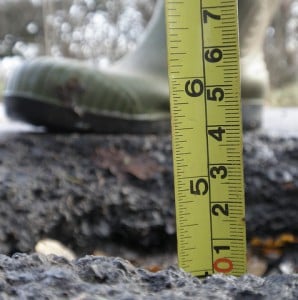 EPIDEMIC: Potholes costing councils millions
Councils paid out a shocking £2.5million in compensation to motorists last year for pothole damage to cars, new figures show.
A freedom of information request, by Britannia Rescue, also found that Britain's roads are peppered with almost 200,000 potholes – one for every mile of road.
And 9% of drivers claim they have suffered car damage as a result of poor road surfaces in the past 12months, including ruined wheel rims, punctured tyres and damaged suspension.
Figures also show the problem is getting worse, with the 32,600 compensation claims made in 2012/13 a 79% rise on the previous year.
Peter Horton, Managing Director at Britannia Rescue, said: "Britain's pothole epidemic has resulted from years of underinvestment in our roads and has been exacerbated by recent harsh winters.
"Local authorities face difficult choices in the roads they prioritise for repair and we now have around 200,000 potholes on UK roads.
"Motorists should protect themselves and their vehicles by reducing their speed on potholed roads, and also reporting damaged roads to their local council."
One of the country's largest local authorities, Lincolnshire County Council, reported pay-outs amounting to £358,665 in 2012/13 alone.
Britannia Rescue claim road maintenance is severely under-funded, with the £16 spent per driver on maintaining road surfaces being less than 10% of the annual road tax bill.
Short-term fixes are often chosen over longer term solutions, with 23% of councils admitting they usually temporarily fix potholes rather than resurface the area.
Repairing a pothole usually costs around £50; meaning the amount paid out by councils in compensation could have been used to repair more than 50,000 potholes.
The most common car problems surrounding potholes are tyre damage (43%), damaged suspension (34%) and damaged wheel rims (26%).
Another frequent side-effect of striking a pothole is chipping and cracking of vehicle windscreens.
Matthew Mycock, Managing Director of Autoglass, said: "This new research highlights that it's practically impossible to avoid driving on a road with potholes which poses a risk to everyone's safety.
"Our customers have become increasingly frustrated with damage caused to their tyres, windscreens and bodywork because of the poor condition of road surfaces and it's not just the costs that are alarming.
"In our own poll of 3,000 drivers, we found that 80% were worried about having a pothole-related crash and almost half actually had an accident or a near miss because of a pothole, which may mean that drivers might start to spend more time looking out for potholes than keeping their eyes on the road ahead."
Image courtesy of amandabhslater, with thanks.