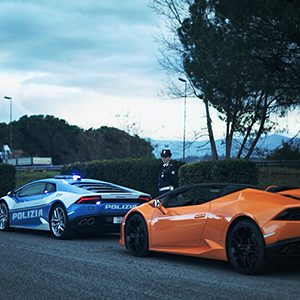 Paul Hollywood returns to the BBC at 9pm on Sunday May 28 presenting a brand new show that celebrates his passion for cars and culture.
Describing himself as a "full-time baker and part-time racing driver", Paul sets off on a Big Continental Road Trip to discover the best and worst of motoring in Italy, Germany and France.
Along the way he samples the local food, drink and fun and is joined by local and special guests who share his irreverent sense of humour.
Paul reckons it's possible to tell almost everything about a place and its people from the cars they drive, and aims to bring viewers on a journey of discovery with our continental neighbours. With the current debate about Britain's relationship with Europe hotter than ever, there's no better time to have a lighthearted look at national identities through the prism of the motor car.
Viewers will see Paul behind the wheel of some of the most expensive, exotic, weirdest and worst cars from each nation he tours, learning about the people who drive them and the history that's made the cars what they are.
Paul learns to drive like an Italian as he attempts to navigate Rome's crazy traffic in a borrowed Lamborghini – with Strictly's Bruno Tonioli as co-driver. He delivers dry-cleaning in a 3-wheel Piaggio Ape, samples mass-produced cars like the Alfasud and Fiat Panda 4×4, and looks at the past to understand what shaped Italy's motoring heritage.
In Germany, Paul is spooked out by Volkswagen's almost too pristine home town, samples no speed limits on the Autobahn with racing driver Bernd Schneider in a Mercedes AMG GT, visits a nudist camp in a VW Kombi van and takes comedian and Germanophile Al Murray for a spin around the Nürburgring.
Finally, in France, Paul races a horse and cart across a field, meets the legendary driver and constructor Henri Pescarolo at the iconic Le Mans circuit to explore the appeal of the 24-hour endurance race, and challenges one of Renault's first turbo-era Formula One cars around the Magny Cours circuit in a modern hot hatchback.
Commenting on the show, Paul Hollywood said: "Cars have been a passion for me since I was a small boy and first saw the Aston Martin DB5 in a Bond film. I use them to de-stress and I believe they're a means of expression, not just a means of transport. It's a dream for me to be able to share my passion on television for the first time with this new series with BBC Two. While baking is my job and what I'm best known for, cars have always been my greatest love – I hope that comes across in the show and that viewers enjoy coming on these terrific journeys with me."
Neil Duncanson, CEO of North One Television, said: "We're delighted to have been able to make this show with Paul, who I think had been dying to make a proper car show for some time! Big Continental Road Trip plays to all his strengths; capturing his great sense of humour, his easy but direct manner, his knowledge of culture and food and of course his great love of cars. That the BBC has chosen to air the show in the 9pm Sunday slot shows the faith they have in Paul and show appealing to a broad audience and I have no doubt it will be a big hit."