Nissan have unveiled their all-new, all-electric e-NV200 van.
The 'game-changing' vehicle, which goes on sale in June, offers zero-emissions and low running costs, taking its drivetrain from the Nissan Leaf.
It offers a 170km range, a 120km/h maximum speed and is capable of charging from 0-80% in 30minutes.
When hitting showrooms, the e-NV200 will be available as a van or as a five-seat people carrier in Combi or Evalia guises.
Guillaume Carter, Senior Vice-President of Sales and Marketing at Nissan Europe, said: "The e-NV200 goes into a totally different market segment to the Nissan Leaf and alongside the world's best-selling electric vehicle will help us continue to lead the EV revolution.
"To do that we haven't simply converted the NV200 to electric, we have thoroughly re-engineered to create a product that isn't just a good electric van, it is a fantastic van by any standards."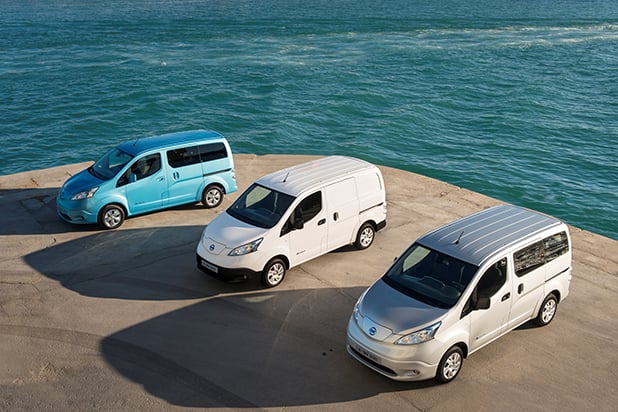 Although based on existing hardware, the e-NV200 has undergone a full engineering development programme, with a unique part count of 30%.
"We have thoroughly re-engineered [the NV200] to create a product that isn't just a good electric van, it is a fantastic van by any standards."
Guillaume Carter, Nissan
The drivetrain has been re-engineered in a number of significant areas to suit its new role, while changes have been made to the vehicle shell.
A comprehensive 'real-world' test programme has been undertaken in Japan and Europe, with feedback from drivers and fleet managers used to fine tune the vehicle before production.
Differences between the e-NV200 and NV200 include striking visual changes, a re-engineered chassis, interior revisions, a new battery pack and a higher capacity regenerative braking system.
Jean-Pierre Diernaz, Director of Electric Vehicles at Nissan Europe, added: "The proven and highly-effective electric powertrain driving e-NV200 is ideally suited to the typical stop/start daily routine of a working vehicle.
"With no exhaust or noise pollution, e-NV200 is environmentally and people friendly, while the lack of fatigue-inducing noise and vibration from the drivetrain coupled with the single-speed transmission will provide genuine benefits to every hard working delivery or taxi driver.
"Fleet operators, meanwhile, will love the low running costs."