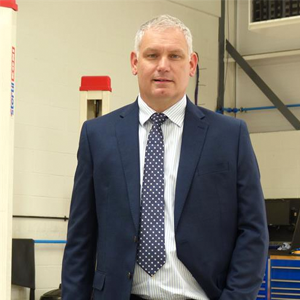 Nigel Woodward has been appointed Managing Director at world-renowned classic car restorers Classic Motor Cars (CMC) based in Bridgnorth, Shropshire.
Nigel has an impressive track record in the classic car industry being instrumental in the creation and development of Aston Martin and Jaguar Land Rover's heritage divisions.
"This is an important appointment that will put CMC on the next leg of its journey," said Peter Neumark, Chairman of the Employee Ownership Trust that runs CMC. "We are delighted that Nigel has decided to join us and take the company forward. He brings a wealth of experience and expertise to CMC."
Nigel has a 30-year career in the prestige sector of the motoring industry and has gained a reputation for developing and taking businesses forward.
He is best known for having developed the Heritage Operations at Aston Martin Works Service, which he took over in 2010 and turned from a comparatively minor part of the Works total offering to its largest single department. During that time he developed a "flying spanner" service to cater for overseas customers and also ship cars to the facility from around the world.
He started his motoring career as a BMW service technician with Stratstone and worked his way rapidly to service manager. He was then headhunted to join Aston Martin Lagonda at their factory service division, Aston Martin Works, where he went on to successively control both the current vehicle service department and body, paint and panel shop facilities, before taking over the Heritage Operations.
More recently, at Jaguar Land Rover Classic, he was involved in the lay-out and build of the 144,000 sq. ft. premises and upon completion, amalgamating the Browns Lane, Solihull and Warwick classic operations in to one business, JLR Classic Works. Additionally, he took over the maintenance team responsible for the company's "collection" of over 500 classic vehicles of all makes.
Nigel said: "For me this is the culmination of a career in the classic and specialist car industry and a dream come true. Following on from my years spent running Aston Martin's heritage operation at Newport Pagnell and more recently playing a role in helping set up Jaguar Land Rover's Classic Works facility, this is a natural progression.
"The opportunity to bring my experience to bare on a truly world class business like CMC is a true privilege and a challenge that I have been looking forward to immensely."