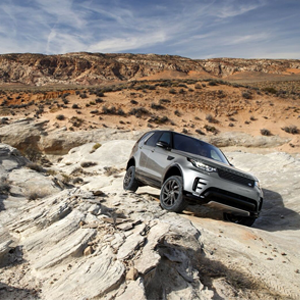 Whitley, Wednesday 15 February 2017: Land Rover's new Discovery arrives in retailers this week giving customers the first opportunity to test the most versatile SUV on sale today on UK roads. Even before the fifth generation of the world-renowned and much loved Discovery reaches retailers, more than 4,000 have already been sold in the U.K. alone with more than 20,000 sold globally.
Jeremy Hicks, Managing Director, Jaguar Land Rover UK said, "It's a special moment when a new vehicle arrives in our retailers and after months of planning, that moment is finally upon us. As of this moment our customers can see the new Discovery at their local retailer in the metal. We are very proud of the new Discovery, it does everything its predecessor does and more. With increased efficiency, improved versatility and clever technology for the whole family we have seen over 4000 new and existing UK customers order the new model even before its arrival at the retailer."
Since its star-studded reveal at Packington Hall, Solihull in September when the new Discovery was unveiled against a Guinness World Record-breaking lego backdrop, the new Discovery has been on display as part of a national tour. New and existing customers were invited to Land Rover's Solihull manufacturing site where the Discovery is built; it then continued to visit all Land Rover retailers nationally. Discovery has also been making an impact at high-profile events and locations including 'Big Game 9' at Twickenham in December and the London Boat Show in January.
Outside of these exclusive activities, customers have only been able to experience the new Discovery though a Virtual Reality experience, but as of today, customers can see, touch and drive the UK's most anticipated SUV.
Retailers have been preparing for the new arrival for some time, undertaking rigorous training at Land Rover's off-road facility at Eastnor Castle, Herefordshire. Driving new Discovery against a sample of competitor vehicles, the new Discovery was put through its paces on- and off-road with classroom-style sessions demonstrating the vehicle's capability, versatility and connected technologies.
Today, the new Discovery will be launched to the international press with a comprehensive on- and off-road drive in Utah, USA. The new Discovery will be put to the ultimate test across some of the toughest terrain Utah has to offer. In late March the new Discovery domestic media launch will be held for UK media where they will be invited to experience the 'seven wonders' of Discovery:
1. The Magnificent Seven: every seat is the best seat in the house
Flexible interior provides seven full-sized adult seats, instantly configurable from your smartphone using the world-first remote Intelligent Seat Fold technology.
2. A much loved member of the family: keeping you safe for the last 26 years
Semi-autonomous safety technology provides the family peace of mind.
Premium interior combines leading design with durable, high-quality materials and space for the whole family.
3. King of the hill: unstoppable on all surfaces, all terrains and in all weathers
Land Rover's full-sized SUV architecture delivers world-beating all-terrain capability.
Lightweight aluminium construction saves 480kg, delivering enhanced efficiency and CO2 emissions from 171g/km.
Super clean Ingenium family grows with adoption of 240PS, four-cylinder diesel engine with 500Nm of torque.
Towing king: best-in-class 3,500kg towing capacity and semi-autonomous Advanced Tow Assist take the stress out of difficult reversing manoeuvres.
4. British creativity: designed with charm & sophistication loved by the world
Design retains key Discovery family cues, adding optimised proportions and sophisticated surfaces.
5. Storage addiction: discover the space for everything
Up to 2,406 litres of luggage space with seven seats as standard in the UK and clever storage for 21st century family essentials.
6. Connects every generation: Ingenious features that make life easier
Digital Discovery equipped with up to nine USB ports, four 12-volt charging points and an in-car 3G WiFi hotspot for up to eight devices.
7. After the roads end: reaching threatened habitats and vulnerable people
New Discovery will continue Land Rover's work in humanitarian aid and conservation projects around the world.
Visit www.landrover.co.uk to configure new Discovery