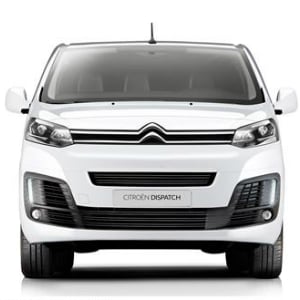 Citroën is to launch a new generation of the ever popular Dispatch LCV, featuring new technologies, design features and architecture, as well as functions that are new to the segment. The New Citroën Dispatch is the first vehicle of its type to offer hands-free sliding side doors and a head-up display, as well as numerous other technologies that make working lives easier and safer.
Designed with a wide range of professionals in mind (including tradespeople, construction workers, local authority employees and delivery and service professionals), the new vehicle will be available in van, Combi and Crew Vanversions, as well as being specified in three lengths (XS: 4.60m, M: 4.95m and XL: 5.30m).
Further to the hands-free sliding doors and the colour head-up display, new features include Driver Attention Alert, Active Safety Brake, Citroën Connect Nav and Mirror Link systems, and a wide range of optional extras to suit every professional's unique needs.
Launched in 1995, the original Citroën Dispatch sold 600,000 units. New Dispatch joins the Nemo, Berlingo and Relay as part of Citroën's broad modern range of LCVs.
AN INVITATION TO THE WORLD PUBLIC PREMIERE OF THE NEW CITROËN DISPATCH
You are cordially invited to the global public reveal of the all-new Citroën Dispatch van, which will take place at 9.15am on the Citroën stand (Stand No. D40/Hall 5) at the CV Show on Tuesday 26 April.
The global public reveal of the New Citroën Dispatch will take place at 9.15am on the Citroën stand (Stand No. D40/Hall 5) at the CV Show in Birmingham on Tuesday 26 April. There are a limited number of interview opportunities with Citroën and PSA Group executives on 26 April. Please contact the Citroën Press Office to check availability and to book an appointment.