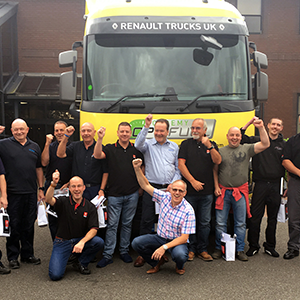 In a closely-fought competition, Renault Trucks brought together the UK's top seven eco-drivers at the 2017 Optifuel Challenge National Final earlier this month to discover the country's most fuel efficient driver.
Winner, Steve Rountree of MTS Logistics, who achieved the best fuel consumption without sacrificing commercial speed, received £1,000 to spend in the Renault Trucks Reward Store, and will now go on to represent the UK at the Optifuel Challenge Grand Final in Madrid, 17th-19th October 2017 with the chance to win a truck for his company.
Runners-up Martin Elwick of Clugston Group in second place and Matthew Worden from Matthew Kibble in third, also notched up first class performances and received £500 and £250 of Renault Trucks Reward Store vouchers respectively.
Commenting on the biennual Optifuel Challenge, Nigel Butler, Commercial Director, says: "As the customer cost champion, Renault Trucks is fully focused on reducing fuel consumption through highly efficient vehicles equipped with the latest technologies, but it is equally important that the driver connects with these innovations to deliver the best balance of fuel economy and speed. The Optifuel Challenge reinforces these messages and showcases the skills of the best professional drivers on our roads. Congratulations to all our UK finalists, and we wish our very worthy winner, Steve Rountree, all the very best in the Grand Final."
The Optifuel Challenge gives participants the chance to compete behind the wheel of a Range T480 Optifuel truck, boasting the latest efficiency innovations. Equipped with aerodynamic features such as roof deflectors, side deflectors, side fairings and fairing extension, its 13-litre Euro-6 Step C engines with common rail injection systems are equipped with power mode override, eco-cruise control with Optiroll (a controlled free-wheeling mode), a disengageable air compressor, a variable-flow steering pump and automatic engine stop feature. This newest generation of trucks also features the Optivision predictive speed regulator, which uses a GPS connection to adapt gear shifting, acceleration and speed according to route topography.
The Grand Final will see Steve Rountree take on winners from across 30 participating countries at an all-expenses paid event, where the overall champion will be presented with a Range T480 Optifuel truck for their company and their choice of vouchers to the value of €6,000 (£5,550) for themselves.