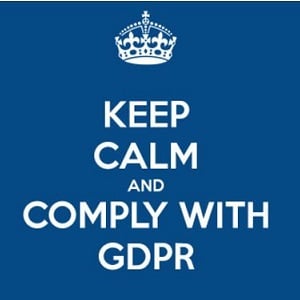 The Motor Ombudsman, the automotive dispute resolution provider, has introduced an online training course on the General Data Protection Regulation (GDPR). This coming Friday, existing laws, namely the EU's Data Protection Directive 1995 and the UK's Data Protection Act 1998, will be replaced by the new piece of legislation.
The engaging and informative e-learning course on the GDPR has been introduced following a recent study by The Motor Ombudsman which revealed that 80% of automotive businesses surveyed do not have a good understanding of the GDPR, with a similar proportion feeling unprepared ahead of the arrival of the new rules. The Chartered Trading Standards Institute (CTSI)-approved module is tailored specifically to organisations operating in the motor industry, and has been designed to help them to better understand their responsibilities and to ensure full compliance with the Regulation. Guidance issued by the Information Commissioner's Office (ICO) advises that all organisations provide initial and refresher training for staff so that they fully understand their responsibilities under the new rules.
The Motor Ombudsman's GDPR course covers the following subjects, amongst others:
An overview to the GDPR;
A glossary and introduction to key terminology and definitions;
Case studies to illustrate the six key principles of the GDPR and how they apply to a business setting;
Roles and responsibilities when gathering, managing and retaining data;
The importance of data protection including remote working; and
Identifying data hazards and effective methods to avoid security breaches.
Taking around 45 minutes to complete, and with a series of multiple choice questions to test an individual's understanding of the fundamentals of the GDPR throughout the module, the course can be started and stopped as necessary to fit around the user's workload. Upon successfully finishing the session, participants will receive a Continuing Professional Development (CPD) certificate.
Sureyya Cansoy, Head of Business Services and Engagement at The Motor Ombudsman, said: "The GDPR is a significant piece of legislation affecting the working methods and obligations of businesses when it comes to the handling of data. We therefore wanted to create an easy-to-navigate and interactive training module that is relevant to organisations operating within an automotive environment. This will allow users to gain a solid grasp of what constitutes best practice going forward. We expect the course to be in demand following the high number of enquiries on the GDPR that we have seen in recent weeks."
For more information on The Motor Ombudsman's suite of online training courses, which can be completed by both Motor Ombudsman-accredited and non-accredited businesses, e-mail business@tmo-uk.org or call 0207 344 1651.