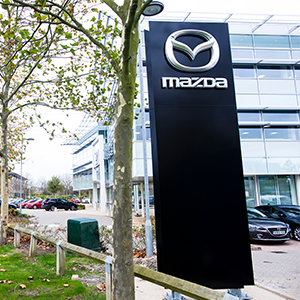 Forces Cars Direct and Motor Source Group are delighted to announce a new partnership with Mazda. The UK branch of the Japanese Car giant joins a host of other car manufacturers who sell cars at a discount to those who have served in the Armed Services or worked in the Public Sector through the two companies.
The new partnership will bring exciting additions to the Forces Cars Direct range. The company sells cars at significantly discounted rates to current and former members of the British Armed Forces in recognition of their service. Their sister company, Motor Source Group, offers the same advantageous rates to those working and who have retired from the Blue Light services; including Police, NHS workers, teachers and the prison service. Thanks to this new partnership, customers of both businesses will now be able to choose from a range of Mazda cars as well as the current range.
"We are delighted that Mazda has come on board with us," said Managing Director Steve Thornton today from the companies' offices in Lincoln, "They offer a great range of cars, which we're confident will prove very popular with our customers."
Steve also said how pleased he is to see another manufacturer choosing to acknowledge the contribution given by others to society: "It's always great when we hear that car companies are keen to work with us and give something back to the men and women who've done something exceptional for society. That's what we went to business for and it's great to hear others share our enthusiasm."
Both companies are able to offer significant discounts those who are eligible for their schemes. By working closely with carmakers, they are able to offer discounts of around £4,000-£5,000 on most cars. These savings can reach as much as £10,000 on some models.
"I'm in a very fortunate position," Steve tells us, "I'm able to see both the generosity of car manufacturers who want to reward the most deserving members of our society and the impact of their generosity when our clients and their families are then able to do something special with the money they've saved."
Started in 2001, Forces Cars Direct and Motor Source Group together have pioneered a market lead in sales of cars to the Armed Forces and Public Sector Employees, making in excess of £60 million in savings for their customers since then.