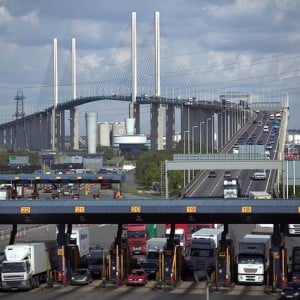 OVERDUE: Dartford tolls to go free-flow
Newly-announced free-flow charging at Dartford tolls is 'long overdue', but the system must be enforceable for all, the Freight Transport Association (FTA) have claimed.
Transport Minister Stephen Hammond confirmed yesterday that the new charging arrangement will be introduced to users of the Dartford River Crossing by October 2014.
The free-flow technology will allow motorists to use the crossing without having to stop at barriers to hand over payment.
Instead, they will be able to pay through a variety of methods including telephone, text message, online and at retail outlets.
The FTA have always supported the free-flow system, claiming the charging plazas themselves cause the majority of crossing congestions.
FTA figures show it costs an estimated £1 per minute per HGV in running costs to queue at the Dartford tolls.
However, the FTA have also voiced concern over the possible lack of an effective charging system guaranteeing all crossing users are equally liable for charges.
They have stressed the importance of a system ensuring penalties are enforced across the board for all users who deliberately try to avoid the charge being implemented.
Highways Agency figures suggest free-flow tolls could cost as much as £21million every year in unpaid charges – mainly from foreign drivers.
Malcolm Bingham, Head of Road Network Management Policy at the FTA, said: "FTA has been asking for a long-time for plans for a free-flow system at Dartford to be introduced, and considers that this is the appropriate way forward in order to reduce a good deal of administration costs for the freight industry in dealing with tolls, charges and queues at the crossing.
"We need to be sure though that the system will work.
"Undoubtedly, there will be occasions of genuine administrative error which should be dealt with in a sensible and pragmatic way, but there has be a robust system in place to enforce against all those who deliberately avoiding payment."
Image courtesy of Highways Agency, with thanks.